NEW YORK, NY – Peak and The City Bakery are thrilled to announce the release of their annual holiday collaboration, the Holiday Saison. Both Peak and The City Bakery have their ethos rooted in a passion for using the finest quality ingredients to create the freshest and most flavorful products. With that shared passion as the centerpiece for their collaboration beer – a dark malted, spiced Saison brewed with a blend of The City Bakery's famous holiday spices – the two companies hope to showcase an amazingly flavorful, complex sensory experience. It's the perfect beer for the Holiday Season.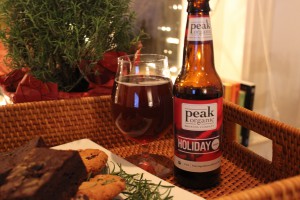 The Holiday Saison features dark-malted wheat from local farms that provides a brisk, but roasty backbone for this Belgian style. A slight hint of clove and bubblegum from Peak's saison yeast lines the notes of caramel sweetness from the malt. But the highlight of the beer is the blend of dried ginger, cinnamon, nutmeg, and allspice that bursts from the beer's aroma and adds delicious hints of sweetness and spice on top of the roasty, brisk body of the beer. This spice blend is a signature of The City Bakery, and is used in such famous baked goods as their Gingerbread Cookies and their Deep Dish Pumpkin Pie, items that City Bakery loyalists line up for blocks to indulge in each Holiday season.
The Holiday Saison was released nationwide on December 8th, 2015. The beer will be available on draft and in 6-packs through the Holiday season. Please visit Peak's beer finder app (Peak Organic – Find our beer) or reach out to Peak's Facebook page to find a location featuring the Holiday Saison near you. And be sure to follow Peak and The City Bakery on social media to hear more about the release and this wonderful collaboration.
About The City Bakery:
City Bakery is a neighborhood bakery with a worldwide reputation. A neighborhood joint and a destination for bakery lovers from around the world, now approaching its 25th Anniversary. The bakery first opened in Union Square in 1990 introducing New York to a unique version of a bakery: part bakery, coffee bar, cafeteria-style lunch and chocolate shop. City Bakery made organic ingredients staple, was locavore before the word existed, and created hot chocolate that changed how hot chocolate is made everywhere. City Bakery brought a design-minded intensity to the sleepy bakery category: stylish bakeries and a focus on visual identity. City Bakery also spawned a second bakery model in New York – Birdbath Green Bakery – and recently expanded to multiple locations in Japan. A long ways from its first days on East 17th Street, City Bakery remains a food world favorite and a taste of New York itself.