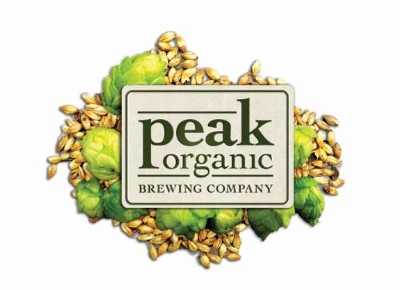 PORTLAND, MAINE –  Moving the country-wide explosion of sessionable beers  forward, the Peak Organic Brewing Company has released the NEW Peak Nitro Stout – a soft 4.7% Nitro Stout with a toasty black malt flavor and an airy mouthfeel.  Known for their strong line of drinkable, hop-forward, full-flavored beers – including Summer Session, Fresh Cut, and their Saison series – Peak is filling out their lineup on the malty side with this delicious new release.
Peak's dedication to brewing with the best ingredients is once again showcased in this cascading Nitro beer. With a blend of local pale malt, local wheat malt, black malt, crystal 60 malt, munich malt and chocolate malt, founder/brewer Jon Cadoux was able to craft the ideal roasty stout flavor while keeping the body of this beer light and creamy.
"It's a tribute to our farmers that grow some amazingly flavorful barley that we're able to make such a light, easy bodied stout that is still just bursting with that classic dark malted flavor," said Cadoux. "Putting this beer on Nitro was just a no brainer. I think at one point or another we have all been hypnotized by that beautiful cascade you see up the pint glass when a nitro stout is poured. "
The Peak Nitro Stout will be released nationwide Spring 2015. It will be an offering available through the Spring months in draft only. Reach out to Peak on Facebook (www.facebook.com/peakbrewing) to find a location pouring the Nitro Session Stout near you.
About Peak Organic Brewing:
Peak is a craft brewing company, dedicated to making delicious beer using local and organic ingredients. We believe that pure ingredients simply taste better. Our mission is to revolutionize the barley, wheat and hop supply chains – stimulating a large increase in sustainable and local growing.  Our organic farmers grow the best ingredients in the world.  It's our job to showcase their work through delicious beer.
Today, Peak produces 21 varieties, including IPA, Fresh Cut,, Summer Session, Simcoe Spring, Hop Harvest Oktoberfest, Winter Session, Hop Noir, Hop Blanc, Pale Ale, The Local Series (NY, MA, NY and ME), Oak Aged Mocha Stout, Nut Brown, Amber, The Maple Collaboration, Espresso Amber, King Crimson Imperial Red, Pomegranate Wheat, Weiss Principal Imperial Hefeweizen, Ginger Saison, Citrus Saison, and Holiday Saison.