A number of packaging changes are on tap for Golden Road Brewing, the Los Angeles-based craft brewery that first launched in cans in January 2012. Co-founder Meg Gill said that while the vision for the Golden Road brand was present during the company's first year, the execution on its canned packages was not.
"You live and you learn, right?" Gill said.
The changes are taking place for three key reasons, according to Gill: to better display the company's detailed photographic imagery, to more accurately inform consumers what they are purchasing, and to offer retailers a new package size — a 12-pack of 12 oz. cans.
"Our original idea was to have a wrap-around image and show off the photography," Gill said. "But in a dark bar, nobody could see the name on our cans. It's why we've decided to put it all up front and just tell consumers where the brand comes from."
The sharper, simpler design on the company's flagship Point The Way IPA and Hefeweizen offerings is the direct result of a new partnership with SGS international, a global supplier of prepress and graphics for CPG companies, Gill said.
Golden Road now sources its design plates from SGS and its aluminum packages from Crown Holdings. Golden Road had previously been working exclusively with Ball Corporation, a leading supplier of metal packaging for the craft brewing industry. She estimates that the supplier changes will save her company thousands of dollars in manufacturing and printing costs.
To coincide with the packaging changes, Golden Road has also modified the recipes for its Point The Way IPA and Wolf Among Weeds brands. For Point The Way, changes include an increased ABV and the removal of caramel malt from the grain bill, something Gill said she learned from one of the industry's foremost experts on hoppy beer styles, Russian River Brewing founder Vinnie Cilurzo.
"We had a conversation about IPA's a few years ago [before I owned a brewery] and he told me that there was no place for caramel malt in a California hoppy beer," Gill said. "Interestingly enough, Jesse [Houck], our new Brewmaster, had already decided to make that change to the recipe without me saying anything."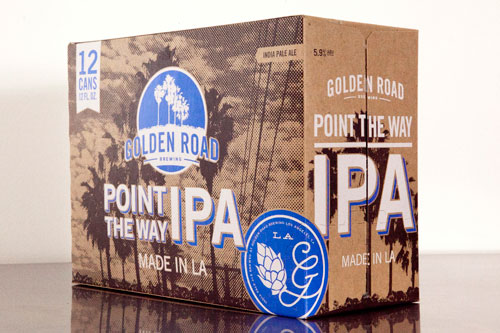 Similar changes were made to Wolf Among Weeds, resulting in a more focused and assertive hop profile, Gill said.
Golden Road will continue producing 4-packs of its Point The Way IPA and Hefeweizen brands as well as its specialty offerings. The new 12-packs of Point the Way IPA will hit retail outlets in Southern California next Monday with a suggested retail price of $16.99. As for potential distribution changes, Gill said the company will continue its mission to service Southern California markets before broadening its reach across California. But that's not to say she hasn't considered an expansion.
"We are looking at a couple markets and have entertained the idea of sending specialty beers to Northern California," she said. "But right now it all depends upon our sell-through in the spring and nothing is definite."