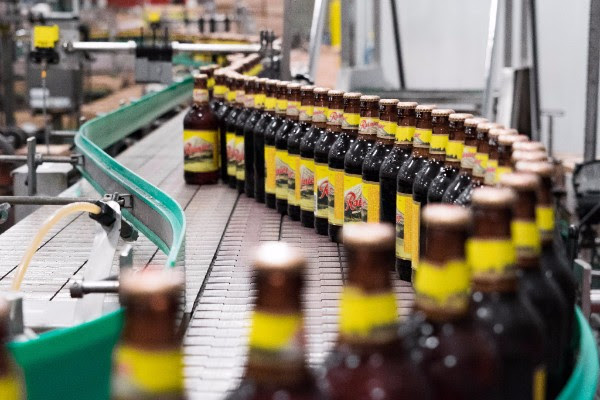 SEATTLE — This week, beer lovers throughout the Northwest will soon find a new beer from Rainier Brewing Company in stores, bars and restaurants for the first time in nearly 20 years. What's more, Rainier Pale Mountain Ale will be brewed in Woodinville, WA, marking another historic milestone—the return of Rainier brewing operations to Washington state for the first time in 13 years.
"We're very excited about the launch of Pale Mountain Ale," said Kurt Stream, Seattle field representative for Rainier Brewing Company and local beer author and historian. "Rainier has such a rich heritage in Seattle and throughout the Northwest. Our goal with this new beer is to honor and build on that."
Both the beer and the packaging for Rainier Pale Mountain Ale were inspired by one of Rainier's own post-Prohibition pale ales from the 1930s. The new beer is made using two-row barley and Yakima Valley hops, giving it a solid malt backbone and a clean, citrus finish. In retail locations, it will be offered in unique, 16-oz. "pounder" bottles sporting retro-style labeling and embossed, signature Rainier "R"s. Rainier Pale Mountain Ale will also be available at restaurants, bars and taverns in bottles and on draft.
"In developing Rainier Pale Mountain Ale, we mined Rainier's archives for post-prohibition pale ale recipes and worked hard to stay true to the authenticity of the brew while adapting to modern tastes," said Greg Deuhs, Master Brewer at Pabst Brewing Company, parent company to Rainier. "I'm very proud of what we came up with." From 2008-2012, Deuhs served as Director of Operations at the Craft Brew Alliance Woodinville brewery, where Rainier Pale Mountain Ale will be brewed.
At a May 13 launch party for the new beer at Seattle's Museum of History and Industry, King County Executive Dow Constantine remarked that "a lot of us remember Rainier as the first beer we shared with our dads or granddads." Constantine added that, "to have Rainier back in our community is really capturing a little piece of authentic Seattle culture and history."
The launch of Rainier Pale Mountain Ale marks the beginning of an effort by Rainier to develop more craft-style beers inspired by the company's archives and 137 years of brewing tradition. Rainier Pale Mountain Ale will be distributed throughout Wash., Ore., Idaho, Mont. and Nor. Calif. The suggested six pack retail price is $11.99.
About Rainier
Since 1878, Rainier Brewing Company (originally Seattle Brewing and Malting Company) has been brewing authentic and flavorful beers in the Pacific Northwest; it was once the largest brewery west of the Mississippi. In 1954, the iconic Rainier "R" was raised on top of the company's brewery in Seattle, WA, cementing the brand as a regional powerhouse, known to this day for its great tasting beer, innovative packaging, baseball, and quirky commercials. In the last year, the company's signature lager received three gold medals—at the 2015 Great American Beer Festival; at the 2016 Annual North American Beer Awards; and at the prestigious 2016 World Beer Cup, where it bested 81 other entrants in the American-Style Lager category. Rainier is also known for its partnerships with local charities, most notably the Arbor Day Foundation. Through the Rainier's Tabs for Trees program, 25,000 trees have been planted since 2014.
Rainier beers can be found in stores, restaurants and bars throughout the West. For more information about Rainier Brewing Company, please visit: http://rainierbeer.com.