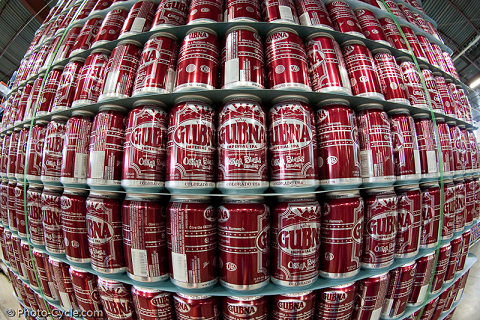 LONGMONT, Colo. — This March, GUBNA Imperial IPA will celebrate its 3-year anniversary as Oskar Blues' hoppiest craft beer in a can. With a mutated overload of hops, GUBNA will be a limited seasonal release March through May 2013.
GUBNA was moved from a full time offering to a three month limited-release to compliment a seasonal series featuring the cyclopean Ten FIDY Imperial Stout (October through February), and a yet to be announced third seasonal slated for June through September.
GUBNA was inbred from Oskar Blues Brewery's hankering to confront 100+ IBU's with a single hop to emphasize that complexity of character can arise from simple elements. This time around GUBNA (10% ABV, 100+ IBUs) cranks up the complexity of hops by piling Cascade hops on top of copious amounts of Summit hops and the backbone of German Dark Munich Malt and Rye Malt. North American 2-row barley combines with the other grains to lay the foundation for the hop onslaught to come. Post-fermentation dry hopping allows this monstrosity to gently coax the citrus rind and grapefruit aroma while providing a rye malt-induced spicy yet round middle and finishing with a brisk, clean bitterness.
"We get off on challenging ourselves and our beer drinkers with hops. This year's GUBNA comes from that fire in the belly to up the ante of GUBNA's motley hop character," says head brewer Dave Chichura.
Oskar Blues continues to build on its 52% growth in 2012 and will launch new distribution in Michigan beginning March 4th. Last year, Oskar Blues expanded distribution to new markets for the first time in four years. The markets: Chicago, Ohio, Northern Kentucky and founder Dale Katechis' home state of Alabama each established the largest craft beer launch in territory history topped by 14,000+ case equivalents during the first week in Ohio.
GUBNA Imperial IPA is available in limited-seasonal quantities (March to May) and sold in 12oz. four-packs priced at $14.99. Oskar Blues Brewery's GUBNA Imperial IPA is just one of an impressive line-up of boundary-busting canned beer getable in 31 states.