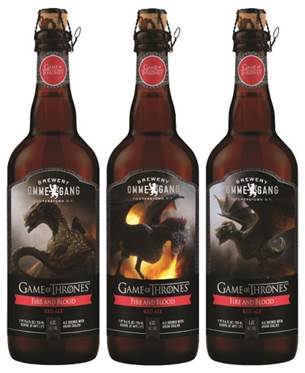 COOPERSTOWN, NY – The next beer in the Game of Thrones-inspired series is being readied for market, and the brew kettle at Brewery Ommegang is running hotter than ever. Brewery Ommegang and HBO jointly announce that the third beer in their successful partnership, Fire and Blood Red Ale, will release in the run-up to the show's return to air in spring 2014. The new beer, inspired by House Targaryen, features a series of labels, one for each of the three dragons on the show: Drogon, Rhaegal, and Viserion.
Fire and Blood follows Iron Throne Blonde Ale (spring 2013) and Take the Black Stout (available now) in the hugely popular and unique partnership between the network and Brewery Ommegang. The first beer in the series, Iron Throne, flew off retail shelves and poured through tap spigots at an unheard of pace, leading to two additional brews. Just released (and at 2.5x the scale of Iron Throne), Take the Black is enjoying similar success as fans of great beer are getting into stores early to ensure they don't miss out. Timed for the launch of Season 4, Ommegang's Fire and Blood is sure to find interest at a feverish pitch.
Fire and Blood Red Ale is brewed with pilsner, spelt, rye, and other specialty malts. It's hopped with Styrian Golding and German Tettnang hops and spiced with ancho chilies for additional complexity. The hue is deep, dark red with a persistent, creamy, off-white head. Aromas include ripe fruit, raisins, slight spice and malt, with a slight floral, spicy hop character. Taste includes fruit with sweet malt character that gives way to faint dryness. The sweet malt is balanced by spicy rye and hop characters with an underlying raisin and prune note. The finish offers balanced malt and spicy characters from hops and rye.
"Once again, we really worked hard to ensure the beer tied nicely into the themes of the show," said Phil Leinhart, Brewmaster at Brewery Ommegang. "Obviously the use of ancho chilies pays homage to the dragons, but the use of rye and Spelt wheat links back to the Dothraki people that Daenerys is leading — they are nomads of the plains and these are the grains that would be well at home there."
"Our partnership with Brewery Ommegang has been a huge success, and we look forward to Fire and Blood being the hottest entry yet," said Josh Goodstadt, Director of HBO Global Licensing. "Ommegang has consistently delivered superior quality beers that reflect a deep passion for the show and open up an entirely new facet of the series to its legion of fans and beer lovers alike."
Fire and Blood Red Ale will be released in spring (exact launch date still TBC) in the lead-up to the debut of Season 4. It will be available nationwide on both draft (sixth-barrels) and in corked bottles (25.4 ounces). The recommended retail price is $8.50 per bottle.
About Brewery Ommegang
Brewery Ommegang, part of the legendary Belgian brewery Duvel Moortgat, opened in 1997 to craft-brew fine Belgian-style ales. Ommegang creates six ales year-round, as well as an extensive and imaginative range of seasonal and specialty ales. The beers have won a national following by connoisseurs of fine beer and are distributed in 44 states and internationally. Ommegang is located on a 136-acre farmstead in Cooperstown, New York, USA and offers free daily tours and inexpensive tastings as well as a 100-seat café, a well-stocked brewery store, and an annual calendar of public events. Ommegang is open every day of the year except for Christmas Eve Day, Christmas Day, Thanksgiving Day, and New Year's Day. For more information, please contact info@ommegang.com, call 1-800-544-1809, or visit www.ommegang.com. Ommegang is a member of the Duvel family of fine beers. Follow Ommegang on Twitter: @BreweryOmmegang , Facebook.com/Ommegang, Instagram: @BreweryOmmegang
About HBO Global Licensing
HBO Global Licensing officially licenses the HBO® brand for the development and merchandising of innovative product lines inspired by the network's award-winning programming. With products created around classic series like the The Sopranos® and Sex and the City® to current hits like True Blood® and Game of Thrones®, items include fashion apparel, jewelry, digital and CD soundtracks, games, books as well as exclusive, premium collections in partnership with upscale, designer brands. Merchandise can be purchased in retail stores nationwide, at http://store.hbo.com, and at the groundbreaking HBO retail hub, the HBO Shop®, located at 42nd and 6th Avenue in New York City. HBO Global Licensing products are also sold internationally across Europe, Asia and Australia.