It's official: Samuel Adams' first seasonal release of the year, Hopscape, has flopped.
During its fourth-quarter earnings call on Wednesday, Boston Beer Company executives cited a 1 percent decline in depletions for the final three month period of last year and a 5 percent overall decline on the year. But that news was overshadowed by a 15 percent decline in depletions for the first six weeks of 2017, which executives blamed on the poor performance of Hopscape, a new hoppy wheat ale.
"We are disappointed with our depletion trends in 2016, which have remained weak so far in 2017," Boston Beer founder and chairman Jim Koch told analysts. "We were particularly disappointed with the performance of the first of our new spring seasonal beers, Samuel Adams Hopscape."
Boston Beer CEO Martin Roper cited "executional misses" for Hopscape's poor showing, along with an abundance of choice for consumers at retail combined with the "general weakness in the seasonal sub-category." However, he said company executives are still diagnosing Hopscape's "stumble."
"Maybe the beer is too hoppy, maybe it's the name of the beer, maybe the packaging doesn't call out seasonals enough, maybe people are looking for the old seasonal, which is still available in the form of Cold Snap in many markets," Roper said. "We are still not completely clear on all the causes, but there seems to be a combination of things that how the beer is presented and sold to drinkers, more so than a lack of retail execution. I think sales organization and our wholesalers delivered great retail execution on."
Hopscape wasn't the only problem brand as Roper reported "weakness across the whole [Samuel Adams] brand" since the middle of December.
Koch blamed "the general softening" of the craft beer and cider categories on increased competition at retail as more craft brewers join the fray with expanded distribution and taprooms that meet consumers' demand for "new, small and local."
"I believe that in the long run, the brands that are well supported, that maintained consistent quality that stand for important societal values, they ultimately prevail," Koch said. "We plan on maintaining our distribution strengths, particularly our sales force, both on-premise and off and our supportive retailers and our wholesalers with the belief that in the long run, Sam Adams will return to growth."
The decline of Angry Orchard has also continued, Roper noted. Distribution growth and increased pull of Twisted Tea and the successful launch of Truly Spiked & Sparkling helped to partially offset the company's declines. However, after launching in late summer and spiking in August and September, Truly saw a "significant fall off," which Roper said the company attributed to "seasonality."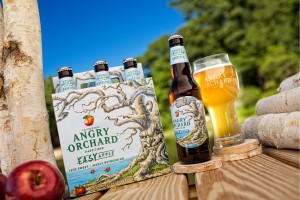 To reinvigorate the Angry Orchard brand, Boston Beer is relying on a new media campaign and the launch of Angry Orchard Easy Apple, Roper said.
Boston Beer is also pinning its hopes on its second seasonal of the year, Samuel Adams Fresh as Helles, and the reformulated Samuel Adams Rebel IPA to help turnaround the company's fortunes. The company will also lean on the national rollout of Rebel Juice IPA in cans and bottles. Roper said the company is "staying the course" with its seasonals for the year but will reevaluate for next year.
During the fourth quarter, Boston Beer's net revenue increased 2 percent to $219.4 million versus last year. The company's shipment volumes increased 2 percent year-over-year, to about 974,000 barrels.
For the year, Boston Beer reported a 6 percent decrease ($53.5 million) in net revenue to $906.4 million compared to the previous year. The company's total shipments also decreased 6 percent, to about 4 million barrels.
In 2017, Boston Beer is now projecting a decrease in depletions between minus 7 percent and plus 1 percent. The company is also moving toward at a national price increase between 1 and 2 percent.
With the craft category slowing down, one analyst asked Koch how long the craft shakedown might last. He said the shakedown will be measured in "quarters and years rather than months."
"We intend to continue appropriate levels of support for Sam Adams, so that we emerge from this transition period with the strongest or one of the strongest brands in the craft industry," he said. "We basically fundamentally believe that the categories we're in — craft beer, cider, FMBs — are growth categories. And we have strong brands within those growth categories. So our best strategy is to continue to support strong brands and growth categories to generate the most shareholder value in the long run."
Responding to a question about Samuel Adams' missteps in the last couple of years, Roper blamed "brand messaging and communication." He added that the company missed an opportunity to sell beer from its Boston brewery — a decision it is reevaluating.
"It's a great resource for consumer research, for testing what people are actually willing to pay for versus what they're willing to accept in a free sampling, and that's probably was a miss," he said. "We've always been a little reluctant because of our belief that it's going to affect rest of our business."
Meanwhile, Boston Beer has formed a search committee to find a replacement for Roper, who plans to retire in 2018 after more than 17 years in the position. Boston-based advisory firm Korn Ferry has been retained to vet potential candidates.
Koch called Roper "a true partner" and said Roper "will remain fully engaged and committed to leading the business as CEO until a successor is found and a seamless transition is completed."