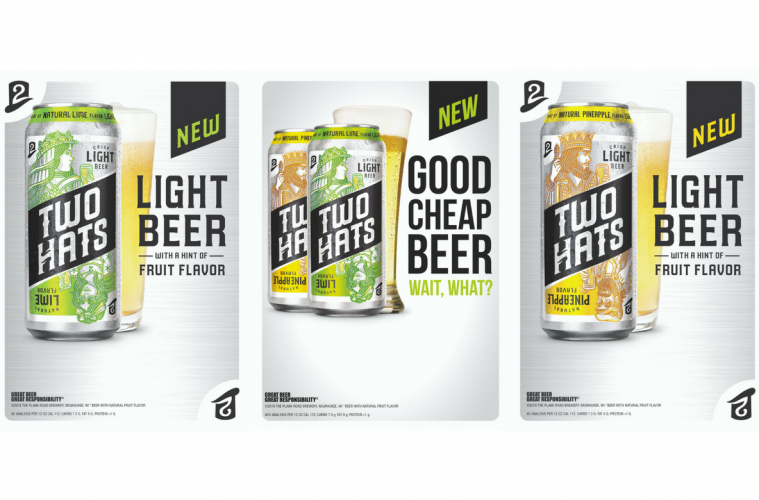 CHICAGO — Two Hats, a new line of light beers with a hint of all-natural fruit flavor, is changing up the light beer game with two lightly flavored options, lime and pineapple, that won't break the bank. More than 20 years since there has been a mainstream beer launch at a low price point, Two Hats is introducing a good, cheap option that suits the taste and budget of a new generation of drinkers who aren't currently big on beer.
With an alcohol by volume of 4.2 percent, Two Hats merges the refreshing character of a light beer with a familiar hint of all-natural fruit flavor that never overpowers. Drinkers can pick up 16-ounce Two Hats cans in a four- or six-pack for about five dollars nationwide. Yup, seriously.
"We want to give 21- to 24-year-old drinkers, who don't consider beer to be great-tasting and affordable, an option they can get on board with," said Justine Stauffer, Two Hats brand manager. "As soon as people realize that a beer this good is about five dollars, their immediate reaction is, 'Wait, what?'"
Two Hats is collaborating with alumni from the Chicago-based incubator program, The Remix Project, to offer a unique creative filter to its campaign. Bringing in the diverse perspectives of creatives and entrepreneurs in the arts and entertainment industries, The Remix Project and its alumni are helping the brand connect with new drinkers in a meaningful way.
Adapting to the digital lifestyle of this new generation, Two Hats will focus on sharing wide-ranging content, from video to memes and gifs, across various digital and social media platforms such as College Humor, Facebook and Instagram. Additionally, drinkers will have the opportunity to try Two Hats through local sampling and custom events across the nation.
To get your fill of "Good Cheap Beer" at all times, follow Two Hats on Facebook at facebook.com/TwoHatsBeer/ and on Instagram @twohatsbeer. To find Two Hats in your city, visit our store locator at twohatsbeer.com.
About MillerCoors:
Through its diverse collection of storied breweries, MillerCoors brings American beer drinkers an unmatched selection of the highest quality beers, flavored malt beverages and ciders, steeped in centuries of brewing heritage. Miller Brewing Company and Coors Brewing Company brew national favorites such as Miller Lite, Miller High Life, Coors Light and Coors Banquet. MillerCoors also proudly offers beers such as Leinenkugel's Summer Shandy from sixth-generation Jacob Leinenkugel Brewing Company, and Blue Moon Belgian White from modern craft pioneer Blue Moon Brewing Company, founded in 1995. Beyond beer, MillerCoors operates Crispin Cider Company, an artisanal maker of pear and apple ciders using fresh-pressed American juice, and offers pioneering brands such as the Redd's franchise, Smith & Forge Hard Cider and Henry's Hard Sodas. Tenth and Blake Beer Company, our craft and import division, is the home to craft brewers Hop Valley Brewing, Revolver Brewing, Saint Archer Brewing Company and the Terrapin Beer Company. Tenth and Blake also imports world-renowned beers such as Italy's Peroni Nastro Azzurro, the Czech Republic's Pilsner Urquell and the Netherlands' Grolsch. MillerCoors, the U.S. business unit of the Molson Coors Brewing Company, has an uncompromising dedication to quality, a keen focus on innovation and a deep commitment to sustainability. Learn more at MillerCoors.com, at facebook.com/MillerCoors or on Twitter at @MillerCoors.