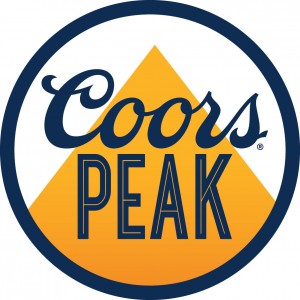 CHICAGO — Coors Brewing Company is introducing Coors Peak, a new, naturally gluten-free copper lager made with 100 percent all natural ingredients. The bright and balanced beer is now available exclusively in the Seattle and Portland metropolitan areas.
"With more drinkers pursuing a gluten-free lifestyle, we were inspired to create Coors Peak so that everyone can enjoy a great beer drinking experience," said David Kroll, MillerCoors vice president of insights and innovations.
Recognizing that drinkers had only sorghum-based gluten-free beers or chemically-treated gluten-reduced beers to choose from, the brewers at Coors set out to create the world's first great tasting and naturally gluten-free beer. After nearly five years scouring barley alternatives and perfecting the recipe, Coors Peak is unlike many of the other gluten-free options available today.  Brewed using a unique process of malting brown rice, rather than barley, Coors Peak has the taste, depth and complexity of regular beers while still being naturally gluten free. Hops and caramel sugar add to its distinctive character and brightness. The result is a full-flavored and certified gluten-free beer that's worthy of the Coors name.
"Coors Peak continues the Coors tradition of driving superior taste while highlighting our commitment to quality innovation," noted Kroll. "Our unique brewing process allows us to brew an inherently all natural gluten-free beer that is brewed separately from our other beers."
Coors Peak is available in six- and 12-pack bottles at grocery stores and also select bars and restaurants in theSeattle and Portland metropolitan areas.
Marketing support for the regional launch will include TV spots, out-of-home and digital advertising, chef partnerships and targeted sampling initiatives. Product packaging will feature yellow and blue tones with the iconic Rocky Mountains landscape and Coors script logo, reinforcing the more than 100 years of brewing experience from the Coors family of brands.
For more information about Coors Peak, visit www.CoorsPeak.com and www.Facebook.com/CoorsPeak.
About Coors Brewing Company:
Coors Brewing Company was founded in 1873 by Adolph Coors, who chose the Clear Creek Valley in Golden, Colo., for his new brewery because of the pure water in the nearby Rocky Mountain springs. The brewery's original and most enduring beer is Coors Banquet (Coors.com, Facebook.com/CoorsBanquet, YouTube.com/OfficialCoorsBanquet), still brewed exclusively in Golden using only Rocky Mountain water and high-country barley. Coors Light (CoorsLight.com, Facebook.com/CoorsLight, @CoorsLight on Twitter, YouTube.com/CoorsLight) was introduced in 1978 and now is the second-best-selling beer in the United States. Triple-filtered smooth Keystone Light (KeystoneLight.com, Facebook.com/KeystoneLight) is one the country's most popular economy beers. Coors Brewing Company operates in the United States and Puerto Rico as part of MillerCoors, a joint venture of SABMiller plc and Molson Coors Brewing Company. Learn more at MillerCoors.com, at Facebook.com/MillerCoors or on Twitter through @MillerCoors.