Update (2:43 p.m. EST): Lagunitas Brewing has officially filed a stipulation of voluntary dismissal without prejudice.
Lagunitas Brewing founder Tony Magee said on Tuesday his company will drop a trademark infringement lawsuit against Sierra Nevada Brewing, following backlash from what Magee called "the court of public opinion."
The announcement — which Magee made via his personal Twitter account late on Tuesday evening — comes just one day after Lagunitas asked a judge to issue a restraining order that, if issued, would have prevented Sierra Nevada from releasing its new Hop Hunter IPA.
The withdrawal was the result of negative feedback surrounding news of the lawsuit on Twitter. Calling the social media service the "ultimate focus group," Magee told Brewbound that the deluge of negative feedback from those on Twitter convinced him to withdraw the case.
"We spent a lot of time trying to understand what was going on," he said. "The overwhelming sense was that people object to litigation in the craft industry."
In the suit, Lagunitas, represented by Nixon Peabody, claimed Sierra had infringed on the company's well-known IPA logo designs. Lagunitas believed Sierra, in the creation of its new Hop Hunter IPA, had attempted to emulate Lagunitas' "capital, large, bold, black 'IPA' lettering in a font selection that is remarkably similar to the iconic Lagunitas design."
The case, which was filed in the U.S. District Court for the Northern District of California, was scheduled to be heard on Jan. 20 in Oakland, Calif. and, of press time, Sierra Nevada had not filed a formal "answer" or response to the lawsuit.
According to Brendan Palfreyman, an attorney at Harris Beach PLLC in Syracuse, N.Y., because Sierra had yet to respond to the original complaint, Lagunitas will have an opportunity to voluntarily dismiss its claim without approval from Sierra Nevada or a judge.
Palfreyman, an intellectual property and trademark specialist who represents a handful of New York-based craft breweries, also noted that a dismissal would likely be filed "without prejudice." In other words, Lagunitas could potentially bring the claim against Sierra Nevada again.
If Sierra Nevada — represented by McDermott, Will & Emery — had already responded to the complaint, it could have pushed for the motion to be filed "with prejudice," which would have prevented Lagunitas from re-filing the claim against the company.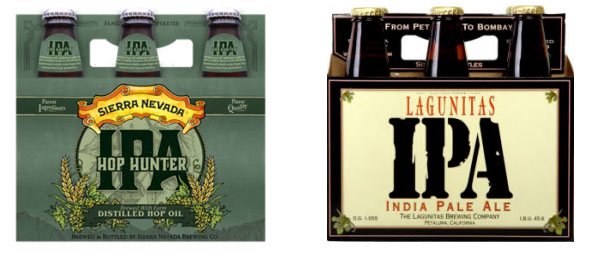 Tony's Tweets and 'The Court of Public Opinion'
After seeing responses from drinkers who disapproved of Lagunitas' attempt to sue Sierra Nevada, Magee, around 11:00 p.m EST, changed course.
"There [are] many courts in the world," Magee tweeted. "For me, over the last month, one court was a series of rebuffed phone calls. Another was a court of law. Today was in the hand of the ultimate court; the court of public opinion and in it I got an answer to my question; Our IPA's TM [trademark] has limits."
That "court of public opinion" was largely critical of Lagunitas' attempts to sue the Sierra. When news of the lawsuit surfaced, many disapproving drinkers took to platforms like Twitter and Facebook to bash the company and call attention to other "IPA" brands that featured the acronym in larger, more stylized block lettering.
Hey @lagunitasbeer why only sue @SierraNevada? There are countless IPA with PA kerning. (def: http://t.co/acsUIGraHi) pic.twitter.com/9dTm9JCsR1

— PortlandBeer.com (@Portland_Beer) January 13, 2015
I mean, it really is this obvious, right? How could you ever issue @lagunitasbeer this kind of legal precedent? pic.twitter.com/mvG53xoi7b — Good Beer Hunting (@goodbeerhunting) January 13, 2015
@lagunitasT not a single person in the US that would see Hop Hunter and think that they're buying Lagunitas IPA. I respect your opinion tho.

— Dan (bubbles' dad) (@danisaccountant) January 14, 2015
@lagunitasT You guys were totally wrong in this lawsuit. Sierra should be your friends, not your enemies. You guys are now on my bad side.

— Brian O'Neill (@SFBrian) January 14, 2015
Magee told Brewbound that when he originally filed the lawsuit, he didn't expect consumers to voice their opinions so loudly.
"We incorrectly measured what we thought the response was going to be for this," he said. "I tried to find out if my IPA mark was defendable and I found out on Twitter that it is not.I got the answer that matters most – what our customers think. We don't drive the bus here. I listened to them."
Magee, who still believes Sierra Nevada adopted part of the Lagunitas "look and feel" and infringed on the company's trademarks, said too many Lagunitas consumers want to see Sierra's beer released and plans to let the purchasing decisions occur in the "free market."
"Game on," he said.
So what's next?
Although Magee has publicly announced his plans to drop the lawsuit, no official documents have been filed as of press time.
Palfreyman described the sequence of events as "brief, stark and fascinating," and said he wouldn't expect Magee to renege on his word.
"It's hard to say what his attorneys will advise him to do, but ultimately it is a client's decision," he said. "They can talk pros and cons with him, of course, but ultimately it comes down to Lagunitas and what they want to do."
Once Lagunitas' voluntary dismissal is filed, the temporary restraining order hearing set for Jan. 20 will likely be cancelled.
Sierra Nevada declined to comment as of press time.
Lagunitas' official statement regarding the decision to drop the suit is printed, in its entirety, below.
"Yesterday in the Lagunitas nexus of the Twitterverse was the worst day ever in 23 years of growing our brewery. Worst. Growing a business over time sometimes involves defending that business. Defending a business requires answers to Hard Questions. Questions like: Are our Foundations Strong? Are our Flavors right? Are our Labels, our very identity, something that we can defend? There are many courts in the world in which to find those answers. For us, over the last month, one court was a series of rebuffed phone calls to another brewer. Another was a court of law. Today was in the hands of the ultimate court; The Court of Public Opinion and in it we got an answer to our Question; Our flagship IPA's registered federal trademark has limits. We don't know the answer to every question beforehand so we feel around for the edges and we try to learn. Today we were seriously schooled and we heard you well…! The Customer is always right and here in the 21st Century that maxim is truer than ever. Today we will Drop the Infringement Suit & get back to work answering other questions instead. We needed to raise the question because it matters, and through the miracle of Twitter the answer came back much sooner than we thought and in a different Court than we expected. The best thing is to have friends. Can we say thank you?"