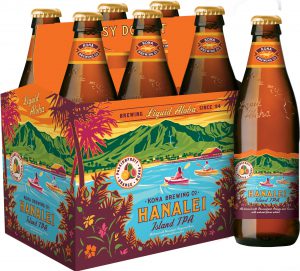 Kailua-Kona, HI — Kona Brewing Company is proud to announce its newest year-round beer, Hanalei Island IPA, is now available nationwide, starting today. The fruit-forward IPA launched exclusively in Hawaii late last summer, with a special event in the brew's namesake Hanalei Bay, and then landed in California at the end of 2016. With today's national launch, IPA lovers from Seattle to Key West can enjoy the latest taste of Liquid Aloha from Kona Brewing Company.
Hanalei Island IPA is a refreshing fruit-forward IPA created in honor of the lush Hawaiian Island of Kauai, also known as the Garden Isle, and Hawaii's beloved classic POG juice, a blend of passionfruit, orange and guava.
"Kauai is one of the most beautiful places on earth, and as we've done with our other beers, we wanted to create a distinctive IPA that reflected the spirit and flavors of the Islands, which are our home and our inspiration," said Sandi Shriver, head of Kona Brewing Company's brewery operations. "POG was the first drink I encountered when I moved to Hawaii and was something I had never heard of on the mainland. I remember being struck by the amazing fragrance of the passionfruit, orange and guava and how beautifully they came together – it was like smelling Hawaii in a glass."
Cindy Wang, Senior Brand Director, Kona Brewing Company, adds, "With the massive growth of IPAs in the craft beer category, with one in four craft beers sold being an IPA, we think Hanalei Island IPA will stand out as a truly special beer that combines the floral hop aroma of a traditional IPA with a uniquely bright and tropical Hawaiian twist."
Kona Brewing Company began developing the recipe for Hanalei Island IPA in mid-2015, and the beer officially launched in Hanalei in August 2016. Brewmaster Ryan McVeigh worked tirelessly to ensure the right balance of all the attributes—soft bitterness, a sessionable ABV and balanced POG aroma and flavor that is present but not overpowering—resulting in the ultimate drinkable IPA.
Hanalei Island IPA is named after the historic town of Hanalei and world-famous Hanalei Bay, a magnificent crescent shaped bay tucked against lush green mountains streaked with waterfalls. Available year-round, Hanalei Island IPA pairs well with seafood, tacos, pizza or pasta dishes.
Hanalei Island IPA is available in six-packs and on draft. For a list of where to purchase Hanalei Island IPA, please visit http://konabrewingco.com/find-beer/.
Kona Brewing Company Hanalei Island IPA:
Original Extract: 11.0˚P
Apparent Extract: 2.0˚P
Alcohol by volume: 4.5%
IBU: 40
Color: 7˚L
Malt: Pale 2 Row, C-120
Hops: Millennium, Azacca, Galaxy
Flavor profile: Passionfruit juice, orange juice, guava concentrate (POG)
For more information, visit KonaBrewingCo.com
About Kona Brewing Company
Kona Brewing Company was started in Kailua-Kona on the Island of Hawaii in the spring of 1994 by father and son team Cameron Healy and Spoon Khalsa, who had a dream to create fresh, local island brews made with spirit, passion and quality. Today, Kona is Hawaii's largest and favorite craft brewery, known for top-selling flagship beers Longboard Island Lager and Big Wave Golden Ale and award-winning innovative small-batch beers available across the Islands. The Hawaii born and Hawaii-based craft brewery prides itself on brewing the freshest beer of exceptional quality closest to market. This helps to minimize its carbon footprint by reducing shipping of raw materials, finished beer and packaging materials.
Kona Brewing Company has become one of the top craft beer brands in the world, while remaining steadfastly committed to its home market through a strong focus on innovation, sustainability and community outreach. For more information call 808-334- BREW or visit www.KonaBrewingCo.com. Be social via Facebook, Twitter and Instagram @KonaBrewingCo