Tempe, AZ – Huss Brewing Co. has announced that draft favorites Koffee Kölsch and The Husstler Milk Stout will now be available in six-packs! The 12-ounce cans will hit retail shelves for year-round statewide distribution starting next week.  In addition, Huss Brewing will debut these cans to the public at the annual Strong Beer Festival on Saturday, Feb.13, at Steele Indian School Park.
The addition of the two canned beers will expand brewing operations substantially. Huss Brewing is now one of the fastest growing production breweries in Arizona after opening its doors only two-and-a-half years ago.          
The Koffee Kölsch started as an experiment, but the overwhelming local popularity of this sessionable beer, which is 4.75% alcohol by volume, kept its production in demand, and prompted Huss Brewing to add it to the production line          
The Koffee Kölsch is brewed like Huss Brewing's Scottsdale Blonde, which is a German-style ale, light in color and smooth on the palate. Then hazelnut and caramel cream whole-roasted coffee beans are added to the kölsch after fermentation, cold steeping in the beer.  The result is a coffee-forward ale, approachable for any beer drinker, and perfect for coffee lovers alike. It has an amazing bouquet with notes of hazelnut, caramel, vanilla, and java, with a deceptively light blonde color for such a bold aroma and rich coffee flavor.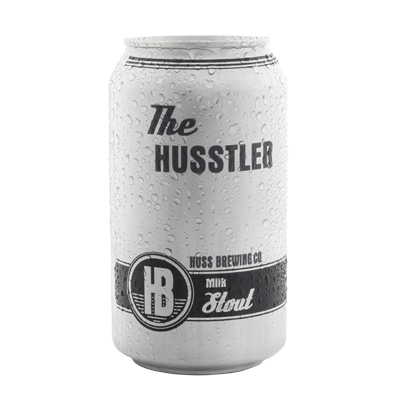 The Husstler Milk Stout was added as a core beer, after it won bronze at the, 2015 Great American Beer Fest, in the sweet stout category amongst 75-other entries nationwide.  The smooth, creamy, full-bodied stout has a mildly sweet flavor, with rich, chocolate, roasty notes creating a well-balanced, go-to stout at 5% alcohol by volume.          
"We're very excited to share the great new beers with our fans," said Jeff Huss, owner and Brewmaster.  "Both of these beers are in great demand on draft, and now people can find them in six-packs!"
About Huss Brewing Company:
Husband-and-wife, Jeff and Leah Huss, have over 20 years of combined experience in the brewing industry.  Jeff was head brewer for BJ's Brewing in Chandler, Ariz., for seven years and attended the, Siebel Institute in Chicago, then, the Doemens Academy in Munich, Germany.  Leah co-owned and operated Papago Brewing in Scottsdale, Ariz., for 14 years, helping pioneer the craft beer community and growth in Arizona.  Their combined love and passion for craft beer inspired them to chase their dreams of owning a local, family-owned and operated brewery with Jeff acting as head-brewer, and Leah running business and marketing operations. In 2016 Huss brought on Arizona craft beer veteran, Chip Mulala, heading up sales and distribution throughout Arizona.  Huss Brewing Co. opened its doors in South Tempe in August 2013, with a 30-barrel system, a small tasting room with 20 taps, and room for growth.  Since then, they doubled brewing production capacity as one of the fastest growing breweries in the state. Their fresh, quality, beers are canned on site weekly including their brands: Scottsdale Blonde Kölsch, Magic in the Ivy Pale Ale, That'll Do IPA, Koffee Kölsch, and The Husstler Milk Stout.