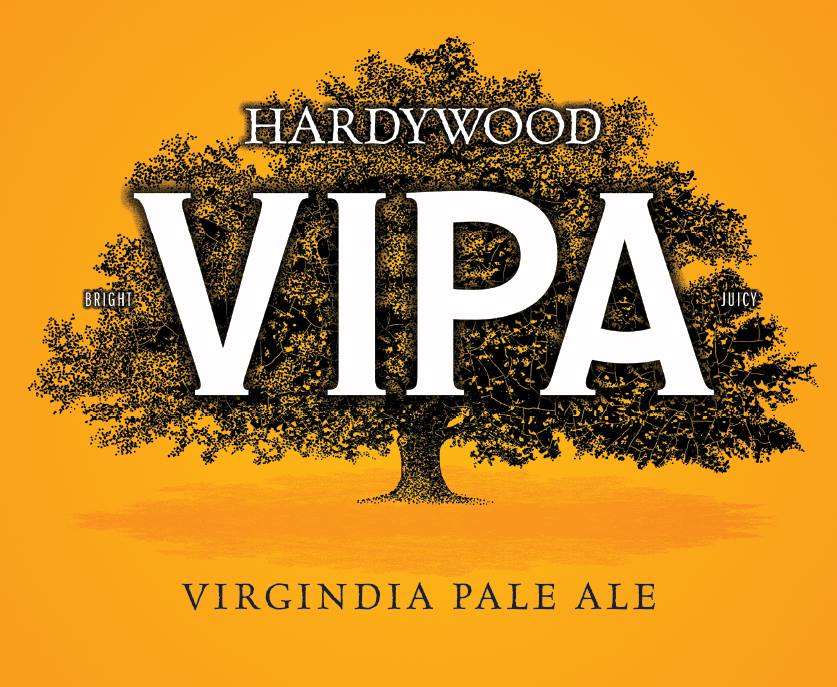 Richmond, VA — India meets Virginia in Hardywood VIPA, a "Virgindia Pale Ale."
"Hardywood is about to celebrate our fifth anniversary. While many breweries lead with a flagship IPA, we purposefully held off until we felt we could offer something truly extraordinary," said Hardywood Co-Founder and President Eric McKay. "Historically, IPAs were strong, bitter beers, but in this case, we're minimizing bitterness while highlighting the citrusy flavor of Virginia hops and tropical fruit aromatics of Mosaic and Azacca hops against a clean backdrop of pale malt at an approachable strength. This makes VIPA a refreshingly unique everyday beer."
THE BEER
Hardywood VIPA offers alluring tropical aromatics, a refreshingly delicate body and a bright, juicy finish. Heirloom Virginia barley rounds out the malt bill, lending balance and creating the perfect platform to showcase the hops. The beer is flavored with citrusy Virginia Cascade hops, finished with Azacca, which offers a nose of mango and pear, and dry-hopped with Mosaic, lending passionfruit and guava aromatics.
Hardywood's interpretation of a Virginia IPA is crafted with locally sourced ingredients, from golden barley grown in the coastal plains to hops cultivated in the Appalachian piedmont – the culmination of years of collaboration with Virginia farmers and maltsters. VIPA proudly features Virginia-grown hops from Piedmont Hops, LLC, Huguenot Hops and Misty Mill Hops at Rockmill Farm, as well as two-row barley grown by Bay's Best Feed in Heathsville, VA and malted at Copper Fox Distillery in Sperryville, VA.
DISTRIBUTION
Hardywood VIPA will be available at the Richmond taproom beginning September 24, both on draft and sold in 12-oz bottles in variety 12-packs. VIPA will be sold at the Charlottesville taproom, once the facility opens later this Fall.
Starting September 26, Hardywood wholesalers and retailers will offer VIPA for sale in ½ barrel and ? barrel kegs, as well as in variety 12-packs featuring Hardywood's three flagships: Singel, Pils and VIPA.