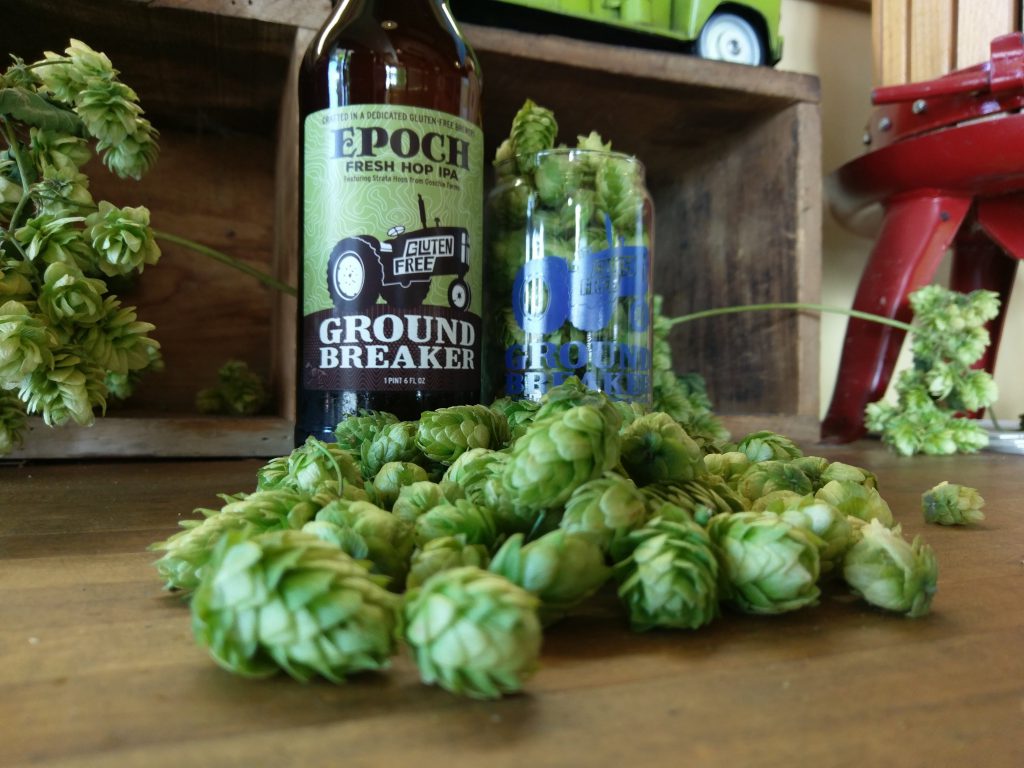 Portland, OR — Ground Breaker Brewing is doubling up on the fresh hop fun. Epoch, a fresh hop IPA brewed with Strata hops, is due to hit store shelves in the third week of September. In late September, Ground Breaker will release Gayle, a fresh hop IPA brewed with Crystal hops. Epoch and Gayle will join Ground Breaker's Experiment Ale Series.
Strata, at one time known as X-331, is an aroma hop that was developed over 7 years in cooperation between Indie Hops and Oregon State University. High-yielding and bursting with tropical fruit and herbal dank aroma, this brand-new be-all hop has the brewing industry abuzz with anticipation. "We were very excited to get our hands on this amazing new Oregon-developed hop variety," said Tyler Kueber, head brewer at Ground Breaker. "Going into the hop back it smelled great, going into the tank it smelled even better. I am very happy for this opportunity to provide a new hop experience for the gluten-free community."
After releasing one gluten-free fresh hop beer for the last two years, Ground Breaker made the decision to distribute two this fresh hop season. "Gayle was very successful last year and we knew we couldn't pass up the opportunity to play with a new aroma hop," said James Neumeister, founder of Ground Breaker Brewing. "We love the tropical fruit aroma hops that are becoming available, but we're still fans that Northwest forest aroma. Why not provide both?"
Epoch IPA and Gayle IPA will be distributed in a 22-ounce package in Ground Breaker territory. Gluten-free beer lovers can try both Ground Breaker fresh hop IPAs as well as an "estate" fresh hop blonde ale at Ground Breaker's first Gluten-Free Fresh Hop Festival. The festival will take place at the gastropub located at 2030 SE 7th Ave Portland, OR 97214, on September 30 from 12pm-9pm.
About Ground Breaker Brewing
Ground Breaker Brewing is a gluten-free craft brewery and Gastropub founded in 2011. They are dedicated to making 100% gluten-free beer; using ingredients which are naturally gluten-free and allowing no gluten in their facility. Ground Breaker has won a medal in the gluten-free category at the Great American Beer Festival® each year they have entered. The gastropub is located at 2030 SE 7th Ave. in Portland, OR. Ground Breaker's beers are distributed in OR, WA, ID, CA, VT, ME, MA, RI, BC, AB and Japan.
About Goschie Farms
Goschie Farms, nestled within the hills of the Pacific Northwest's scenic Willamette Valley, has been a fixture in the Oregon farming community for 130 years. The farm's current location was established by Herman and Vernice Goschie. It is now managed year-round by three of their children: Gordon, Gayle, and Glenn in addition to a cadre of wonderful team members. Frequently cited as an example for sustainable farming practices, Goschie Farms was the first hop farm in the nation to be certified as Salmon-Safe and now grows all of its crops in accordance with salmon-safe guidelines. http://goschiefarms.com/hops.html
About Indie Hops
Indie Hops supplies Oregon-grown aroma hops to craft brewers. The Willamette Valley's rich alluvial soils, long summer days, family operated century farms, and pioneering spirit all combine to create the environment where world-class aroma hops thrive, in a culture that naturally supports craft brewing.