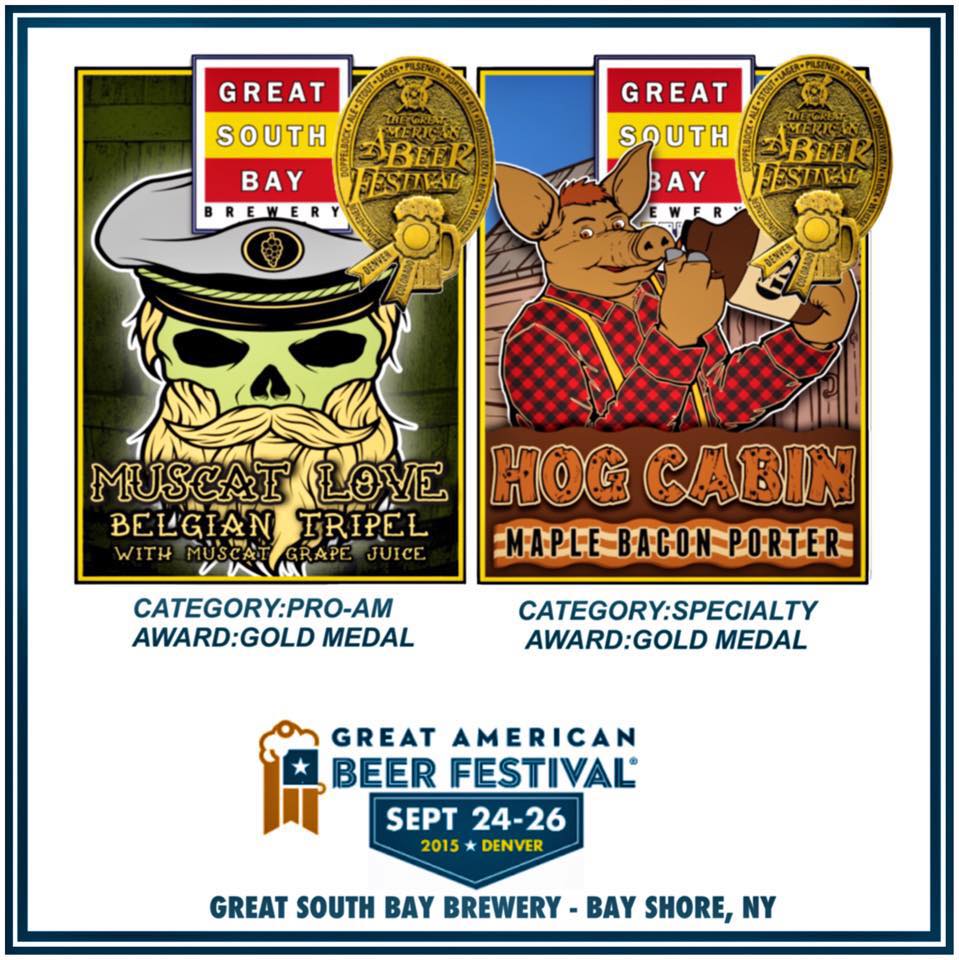 Bay Shore, NY – Great South Bay Brewery, who have been brewing since 2010, have received highest honors in the world of professional brewing, receiving not one, but two, gold medals at this years Great American Beer Festival. Great American Beer Festival has been held annually by the Brewers Association in Denver, CO for 29 years and brings together nearly 750 breweries from across the country to showcase their beers on a national level and have them judged by an expert panel of judges in 92 categories. This is the second time Great South Bay Brewery has been awarded at the Great American Beer Festival, the first time being in 2013 for their beer Splashing Pumpkin for which they received the bronze medal.
The gold medal was award to Great South Bay Brewery for both the Pro-Am Competition and the Specialty Beer category. Muscat Love, a Belgian Tripel brewed with Muscat Grape Juice, won gold for the Pro-Am Competition. This beer was a collaborative effort with homebrewer Brian Giebel of the Long Island Beer & Malt Enthusiasts, whose recipe won an American Homebrewers Association sanctioned competition. This years Pro-Am Competition included 91 entries.
Hog Cabin Maple Bacon Porter was awarded the gold medal in category 12, Specialty Beer, which saw 59 entries this year. Hog Cabin, originally released as a brewery exclusive, is a smoked porter with notes of maple syrup and bacon. The brewery will release this beer in October for full distribution.
The brewery's offerings are currently available on draft and in 6-pack bottles at bars, restaurants and retail beverage centers across New York State and Connecticut as well as at their brewery in Bay Shore, NY during their tasting room's business hours.