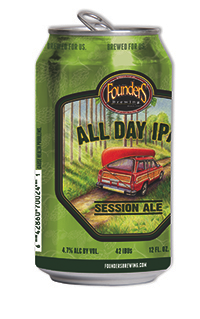 After 16 years, Founders Brewing has finally found its flagship offering.
The Grand Rapids, Mich.-based brewing company introduced All Day IPA in March, then only as a seasonal product. But consumer demand and record sales quickly catapulted the 4.7 percent session ale to Founder's largest volume brand, forcing the company to think about offering it year-round.
"We are looking at this brand as a category leader in the session ale category," said Mike Stevens, Founders Brewing co-founder and CEO. "Knowing that, we have decided to brew the beer year-round."
Through the end of June, Founders had sold over 130,000 case equivalents (CE'S) of All Day IPA since March 1. Sales of its next best-selling beer, the year-round Centennial IPA, have only barely eclipsed 102,000 CE's.
Although the brand currently comprises 25 percent of the company's total volume, Stevens said he expects the number to grow and believes All Day IPA will account for nearly 40 percent of total production in 2014. So what's driving the demand for All Day? Stevens credits a three year recipe development process and unmatched quality.
"It is no secret that the IPA category has become a crowded space," he said. "I think what you get with All Day IPA is a solid craft beer, that is reminiscent of a higher-ABV offering. And even though it's called 'All Day,' the most important words on that label are 'session ale.'"
Stevens hopes that All Day IPA will serve what he feels is an underrepresented category within craft beer: lower alcohol session offerings.
"It has a space within the craft industry," he said. "It's an underserved category and All Day isn't taking away from what is really great about well-made craft beer."
But that doesn't mean the beer isn't cutting into sales of Centennial IPA, another one of Founders' core offerings.
"We have seen some cannibalization," he said. "I would attribute some of that to the success of All Day but also to the crowded nature of the IPA category."
Nonetheless, the new brew has helped to keep Founders Brewing on pace for yet another year of 75-plus percent growth. Production volumes are up 51 percent in 2012, 58 percent of which is All Day IPA, Stevens said. The company will enter Florida, its 25th state, on August 19 and Stevens said he is also eyeing the Maryland, Delaware and Tennessee markets.
"We've been talking to wholesalers in those markets already," he said. "We are slowly identifying what we want to do there and which distributors we want to go with."
The company will introduce canned 12-packs of All Day IPA next month across its entire distribution footprint. Stevens said it's the only Founders brand that will be packaged in aluminum for now. The company produced 71,000 barrels of beer in 2012 and is projecting that volumes will reach 135,000 barrels in 2013 and 200,000 barrels in 2014. Founders made just 12,000 barrels in 2008.