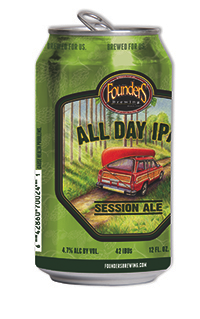 It's the hottest package in craft, and now one of the hottest companies in the segment will add it to their product mix.
Founders Brewing — the fastest growing brewery in the country — yesterday announced plans to can its session offering, All Day IPA. The Michigan-based brewery said it will release the low-alcohol brew across its entire distribution footprint in 12-packs this summer.
"Especially in our recreational home state of Michigan, cans are a very functional package," co-founder Mike Stevens said. "It means people will be able to enjoy our beer at golf courses, marinas and while hiking or camping. And we think All Day IPA works in a can particularly well."
Founders joins a growing list of regional craft beer companies that have recently expressed their intent to put their product into cans. But instead of contracting out the production to a brewery with canning equipment – something Shipyard Brewing tried with City Brewing at the end of 2012 – Founders has invested in a canning line of its own.
"For this new canning line, we turned to the same manufacturer of our bottling line, world beverage industry leader, Krones. We are 100 percent confident in both this line and this package," said Vice President of Operations Brad Stevenson.
Sales of canned craft beer have been steadily rising over the last five years. Market data information provider Symphony IRI group said sales of the package at U.S. supermarkets increased 168 percent in 2012 to approximately $32.6 million. That's up from just $1.2 million in 2008.
Founders said it will also consider canning some its other brands in the future.