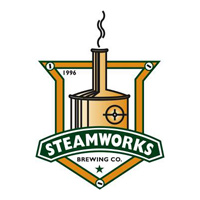 DURANGO, CO — Steamworks Brewing Co. continues with its special monthly "firkin" tapping Friday, Dec. 7, 2012, featuring, in the spirit of the holidays, a special mulled ale or "Wassail." The cask will be tapped at 3 p.m.
Often associated with the Christmas holiday season, Wassail historically is a mulled hot cider made with sugar, cinnamon, ginger and nutmeg. Contemporary recipes often begin with a base of wine, fruit juice, or mulled ale, with brandy or sherry and apples and oranges added.
"The base for our version is our Lizard Head Red, but we blend in some of the Spruce Goose," said Steamworks Brew Master and Certified Cicerone® Ken Martin, referencing the seasonal beer brewed from fresh spruce tips. "We made a concentrated tea out of dried cherries, figs and raisins, mixed it with ginger, cinnamon and nutmeg spices and added it to the firkin. It's a little outside the norm, but I've wanted to do a warm beer for some time now. It should be a nice winter warmer for the holiday season."
Unlike most draft beers, firkin beer is unpasteurized, unfiltered and naturally conditioned or carbonated, it its cask. According to Martin, the yeast transforms the sugar into alcohol within the cask, and carbonation results from the trapped carbon dioxide occurring as a byproduct.
"But the Wassail will be warm if not hot as we will bring the temperature up to 150 degrees Fahrenheit," said Brewer and Certified Cicerone® Spencer Roper. "At that temperature it will lose its carbonation. We'll serve it in a mug with cinnamon and honey sticks."
A firkin is an old English unit of volume, typically a wooden cask equal to approximately one-quarter of a regular barrel, or nine gallons. Steamworks initiated its Firkin Fridays to introduce unusual, specialty craft beers to patrons, and augment its regular, award-winning offerings.
About:
Steamworks Brewing Co., open 11 a.m. to closing seven days a week, is located at 801 E. Second. Ave., Durango (970.259.9200). For further information, visit www.steamworksbrewing.com.