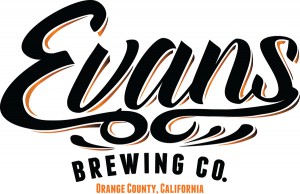 Irvine, CA – Southern California craft beer producer Evans Brewing Company, publicly traded under the stock symbol "ALES," has finalized an agreement for its core year-round branded packaged beers to be distributed in Colorado. The distribution agreement with New Age Beverage, LLC will bring the company's year-round offerings – Pollen Nation Honey Blonde Ale, The KrHOPen India Pale Ale, Oaklore Brown Ale, and ChocoLatte Chocolate Porter – to retailers across the state.
Distribution to Colorado brings the number of states where the company's ales and lagers are available to seven – joining California, Oregon, Washington, Nevada, Arizona, and New Mexico. The agreement with New Age Beverage is the first out-of-state distribution of Evans Brewing's branded packaged core year-round products and is expected to be followed by agreements in additional states and regions.
The company launched a comprehensive rebranding initiative in mid-2015, including new labels that feature vivid designed, hand drawn artwork and custom die cut labels highlighting the outline shape of California where the beers are brewed.
"There has been so much excitement surrounding the launch of our new branding, and we are thrilled to introduce our branded packaged products in Colorado," said Jeromy Roush, Vice President of Sales for Evans Brewing Company. "Colorado is an important, craft centric market, and our Orange County brewed beers will give the state's craft enthusiasts a different taste from the Southern California brewery scene."
"Colorado is home to one of the best craft beer markets in the country," stated Hans Schmidt, Beer Manager of New Age Beverage. "We are excited to add the award-winning Evans Brewing Company products to our portfolio and offer these unique beers to the sophisticated consumers of Colorado."
About Evans Brewing Company:
Evans Brewing Company develops and distributes premium craft brands including a superior line of lagers and ales that have been honored with over 20 international awards. Operating the oldest brewery in Orange County, California, Evans Brewing supplies restaurants, retailers and beer drinkers across several states. Future plans for the company include a branded restaurant/taproom – anticipated to open in the second quarter of 2016, broader product distribution, and potentially an expansion of the beer brands currently under management.