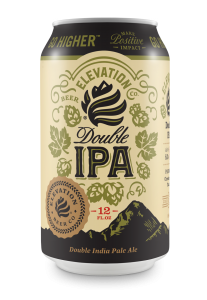 PONCHA SPRINGS, Colo. — For many brewers and craft beer drinkers, the hop is arguably beers most revered and recognizable ingredient. Hop forward beers remain the king of styles often serving as a breweries flagship.
We created this Double IPA to showcase the diverse range of flavors and aromas different hop varieties can impart. Five different hops in seven additions during the brew give this beer all the characteristics a hop head seeks. Citrus and tropical fruit notes, pepper and spice, all the way to pungent resinous pine, Elevation Double IPA pays homage to this ingredient and the culture it created.
Elevation Double IPA pours nice and clear with white fluffy head and tight lacing. Aromas notes of mango, grapefruit, and pine along with medium mouthfeel and lingering dry bitterness, balanced by restrained crystal malt character.