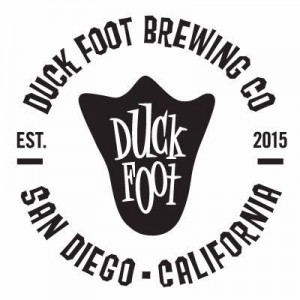 SAN DIEGO – I​f you aren't familiar with​ D​uck Foot Brewing Company yet, you'd better get caught up. It has become one of the most celebrated local craft breweries in San Diego since it opened less than a year ago in June 2015. In that short period of time, popularity has spiked so much that "the Quacks", Matt Delvecchio, Brett Goldstock and head brewer, Derek Wasak, are making their beer available for the masses via bottles at the brewery and in stores. Duck Foot's brews will first be available in all local San Diego Whole Foods markets and bottle shops starting in April to avoid any further "bottleneck" (you see what we did there?) of customers getting their hands on these very tasty brews.
Initially Duck Foot will be making three of its mostly widely­ acclaimed brews available: "Choconut Lust" (chocolate hazelnut porter), "The Contender" (West Coast­ style IPA), and "The Looker" (California blonde ale). The Barrel­ aged "Ukranian Imperial Stout" will also be available in bottles at a future date yet to be determined. They will be sold in 22 oz bottles and are all still gluten ­reduced and celiac­ friendly for anyone sensitive to gluten or just looking to ditch the bloat.
"It's not always convenient to come into our brewery and tasting room when you want to enjoy our beer, so we're really excited to be able to make it even easier and have a wider reach with bottles so that more of our fans have access to our beer anytime they want," says Matt Delvecchio, Head Quack/Founder. "We couldn't be more pleased about how popular our beer has become since we started this last year and we're looking forward to what this year will bring, including introducing even more bottled beer varieties to the current selection."
To kick it off and celebrate, Duck Foot will be having a bottle launch party on April 16 from 6pm to 10pm at its brewery and tasting room located at 8​920 Kenamar Dr #210, San Diego, CA 92121, t​hat will be open to the public. A portion of all proceeds from the event will go to the Surfrider Foundation​and attendees will have the opportunity to purchase Duck Foot beer while playing games, as well as enter the raffle for the chance to win some pretty outstanding prizes, especially for beer lovers and those into skateboarding, surfing and the outdoors.
About Duck Foot Brewing Company:
San Diego's Duck Foot Brewing Company is not just a craft brewery, it's a new approach to beer consumption. The team at Duck Foot believes in great tasting specialty beers that just happen to be accessible to the gluten­intolerant. The founders are beer fanatics at their core and would never sacrifice flavor to hop on a trend. Craft beer should be accessible to all, no matter what dietary restrictions stand in their way, which is why all of Duck Foot's beer is brewed to leave no true beer lover left behind.
Duck Foot's imaginative brewery and tasting room opened at 8920 Kenamar Drive in Miramar in June 2015 with core beers and rotating seasonal offerings and special releases throughout the year. The core beer list consists of a Blonde Ale, Red Ale, IPA, White Double IPA and a Chocolate Hazelnut Porter. Seasonal offerings emphasize the flavors of the region. For example: Honey Ale made with California Orange Blossom Honey, Coconut Molasses Brown Ale, Ukrainian Imperial Stout and Belgian Wit bier.