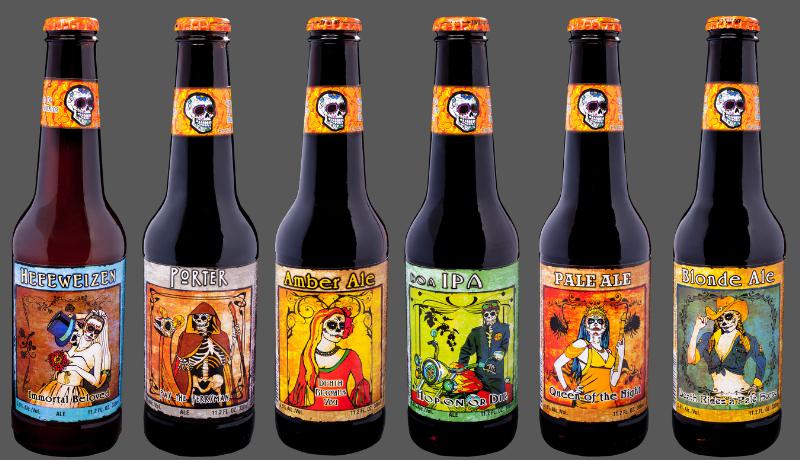 LOS ANGELES, CA — Drinks Americas (OTC: DKAM; "Drinks Americas" or the "Company"), the exclusive United States broker for leading premium authentic Mexican beers currently present in over 32 states, today issued an industry and company update, commenting on market and sector growth, business progress made in 2013, and growth plans for 2014.
Craft brewing niche, over the past few years, has made tremendous strides in securing an increasingly competitive and lasting position within the nation's beer market. According to the Industry, the 2012 growth of the craft brewing industry was recorded at 15% by volume and 17% by dollars, compared to 2011 growth of 13% by volume and 15% by dollars. Overall U.S. beer sales and imported beer sales were up an estimated 0.9% and 1.0% by volume in 2012, respectively. 2012 craft brewing sales represented 6.5% by volume and 10.2% by dollars. Craft brewer retail dollar value in 2012 was an estimated $11.9 billion.
While the Pacific Northwest and California have been the first to welcome and support craft brewing, the craze is catching on across the nation, in towns big and small. Drinks Americas is the first and exclusive provider of authentic Mexican craft beer to this budding and thirsty market. Recently its Day of the Dead craft beer line was featured on the cover of top travel and culinary magazine SAVUER and listed in the Top 100 of the hottest worldwide brands.
In the past six months, the Company has focused its investment and sales efforts into introducing its premium authentic Mexican Day of the Dead craft beer line to this emerging U.S. market. In the last six months, the Company effectively penetrated 32 markets/states and achieved 20% market penetration. With 60,000 cases of Day of the Dead sold in the second half of 2013, Drinks Americas expects to sell 180,000 cases in 2014.
Joseph Belli, VP of Sales for Day of the Dead craft beer, commented, "In order to achieve its 2014 forecasted sales, Drinks Americas must further penetrate its 32 current markets, expand our distributor and retail network. Also on the agenda is the expansion of Mexican Day of the Dead into new and opportunistic markets such as Texas and California, which represents 30% of the American craft beer market and the continued expansion of brewery Cerveceria Mexicana."
On the subject of its other premium Mexican beers, Timothy Owens, CEO of Drinks Americas, stated, "With the exceptional success seen in the launch of the entire line of Day of the Dead craft beer in 2013 and expected success in 2014, the Company is exploring ways to repeat the recipe with its other brands starting with Mexicali, its brand of Mexican light and dark beer that dates back to 1923. Being that Mexico is birthplace of chocolate, in commemoration, Drinks Americas and Mexicali will be launching its new flavor Chocolate Stout in October 2014."
Mr. Owens added, "The Company is confident that creative and promotional marketing across social media, within restaurants via menu placement and through promotional events such as beer tastings and trade shows, will aid in our efforts to grow each of our Mexican beer brands into leading brands throughout the nation. In addition, continued recognition of premium Day of the Dead craft beer by well-respected international culinary critics, such as SAVEUR magazine, who recently named it 34 out of 100 hottest worldwide brands, is something Drinks Americas remains focused on pursuing."
About Drinks Americas Holdings
Drinks Americas (OTC: DKAM) is the exclusive United States broker for leading premium authentic Mexican beers currently present in over 32 states. The Company is on target to be the leading broker for Mexican beers in each state in which it operates. Drinks Americas' leading premium authentic Mexican beer brands include specialty Day of the Dead Craft Beer, Mexicali(TM), Rio Bravo(TM), Red Pig(TM) and Chili Beer(TM), which are all brewed in Mexico's third largest brewery, Cerveceria Mexicana, utilizing state of the art processes, fermentation and aging systems. Drinks Americas' brands continue to forge strong connections with consumers through some of the largest retailers and restaurants in the country. The Company is headquartered in Los Angeles, CA and trades under the ticker symbol "DKAM."
Except for the historical information contained herein, the matters set forth in this release, including the description of the company and its product offerings, are forward-looking statements within the meaning of the "safe harbor" provision of the Private Securities Litigation Reform Act of 1995. These forward-looking statements are subject to risks and uncertainties that may cause actual results to differ materially, including the historical volatility and low trading volume of our stock, the risk and uncertainties inherent in the early stages of growth companies, the company's need to raise substantial additional capital to proceed with its business, risks associated with competitors, and other risks detailed from time to time in the company's most recent filings with the Securities and Exchange Commission. These forward-looking statements speak only as of the date hereof. The company disclaims any intent or obligation to update these forward-looking statements.