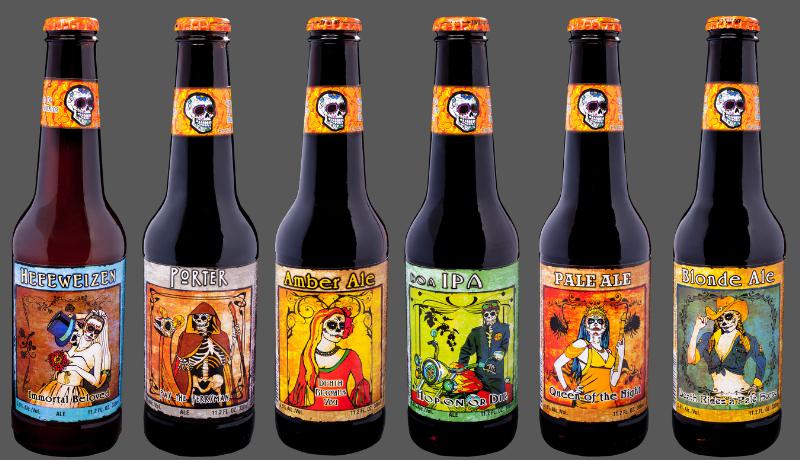 LOS ANGELES, CA — Drinks Americas (OTC: DKAM) a leading U.S. broker for authentic Mexican craft beer proves to be right on trend with Day of the Dead Craft Beer. Since their roll out in Florida with Republic National Distributing Company (RNDC), the brand is now available in over 700 accounts, including Cost Plus, Fresh Markets, Disney, World of Beer, 7-11's, Mexican restaurants and other independents. RNDC is working diligently on supporting the market with presences at beer festivals, tastings and gaining placement at well-known retail chains.
"Republic is carrying all six labels- Death Rides A Pale Horse Blonde Ale, Immortal Beloved Hefeweizen, Death Becomes Her Amber Ale, Queen of the Night Pale Ale, Immortal Beloved IPAand Pay The Ferryman Porter – We have full intentions to support Day of the Dead Mexican Craft Beer. They are all equally performing well for us and we are excited to have a great tasting, eye catching, unique brand in our portfolio," said Colin Hof, Beer Marketing Manager, Republic National Distributing Company.
"I have worked with RNDC for several years and couldn't be happier with their performance so far in Florida. Colin and his team communicate regularly and have great rapport with the accounts in Florida. We have also launched with RNDC in Colorado and now have verbally solidified a partnership inNebraska," said Joseph Belli, VP Sales, Day of the Dead Beer.
Republic National Distributing Company (RNDC) is an organization built on the strong foundations of long-term, well-established family owned companies. The earliest RNDC predecessor company traces its roots back to a single distributorship that was founded back in 1898 in Pensacola, Florida. The Companies vision is to be the national distributor of choice of beverage alcohol producers who value the three tier system, building branded products and profitability for all parties involved and serving the needs of our associates, suppliers, customers and community.
Today, RNDC is the second largest beverage alcohol distributor of premium wine and spirits in the U.S. with wholly owned operations in Alabama, Colorado, District of Columbia, Florida, Louisiana, Maryland,Mississippi, Nebraska, North Carolina, North Dakota, South Dakota, Texas, Virginia, and West Virginia. RNDC also operates in Arizona, Indiana, Kentucky, Ohio, Oklahoma, and South Carolina through venture partnerships. In total, RNDC employs more than 7,500 hard working individuals nationwide.
About Drinks Americas Holdings (OTC: DKAM)
Drinks Americas is the exclusive United States broker for leading premium authentic Mexican beers currently present in over 32 states and is on target to be the leading broker for this growing category in each of the markets in which it operates. All the beers are brewed in Mexico's third largest brewery, Cerveceria Mexicana, which is proudly Mexican owned and uses state of the art processes, fermentation and aging systems. Drinks Americas leading premium authentic Mexican beer brands includes specialty craft beer Day of the Dead, MexicaliÔäó, Rio BravoÔäó, Crazy PigÔäó and Chili DevilÔäó. Drinks Americas (OTC: DKAM) brands continues to forge strong connections with consumers through some of the largest retailers and restaurants in the country.
Except for the historical information contained herein, the matters set forth in this release, including the description of the company and its product offerings, are forward-looking statements within the meaning of the "safe harbor" provision of the Private Securities Litigation Reform Act of 1995. These forward-looking statements are subject to risks and uncertainties that may cause actual results to differ materially, including the historical volatility and low trading volume of our stock, the risk and uncertainties inherent in the early stages of growth companies, the company's need to raise substantial additional capital to proceed with its business, risks associated with competitors, and other risks detailed from time to time in the company's most recent filings with the Securities and Exchange Commission. These forward-looking statements speak only as of the date hereof. The company disclaims any intent or obligation to update these forward-looking statements.