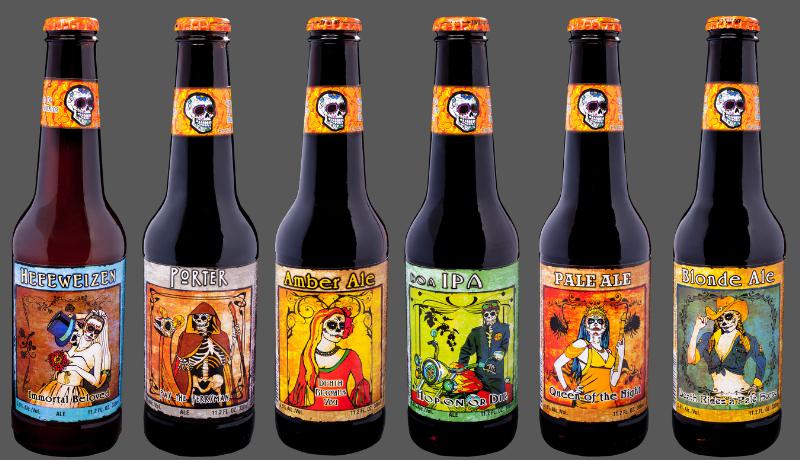 LOS ANGELES, CA — Drinks Americas (OTC: DKAM) is a leading U.S. broker for authentic Mexican craft beer. The Company's mission is to identify and invest the majority of their brand-building resources on those with the greatest growth potential such as Day of the Dead Craft Beer, which proves to be right on trend. Drinks Americas is entering the new year with a solid distribution network.
Joseph Belli, V P Sales for the brand has been able to lead the charge and bring on over 40 distributors that are excited about Day of the Dead Craft Beer and able to give ample focus on getting the new one-of-a-kind beer into the market. Mr. Belli has over 20 years of experience in this area and is carrying out a well developed sales strategy with the help of his team of over 15 sales people around the country.
"Although growth has been very quick we spend a lot of time choosing who our distributors will be in each region we choose to expand. We have partnered with some of the biggest names in the industry such as Southern Wine and Spirits and we have also signed with distributors who have chosen to take us as their first beer to distribute such as Classico Wine and Spirits. In those cases are some of our highest volume distributors because they have a singular focus on our brand," said Joseph Belli, VP Sales, Day of the Dead Craft Beer.
About Drinks Americas Holdings
Drinks Americas is the exclusive United States broker for leading premium authentic Mexican beers currently present in over 32 states and is on target to be the leading broker for this growing category in each of the markets in which it operates. All the beers are brewed in Mexico's third largest brewery, Cerveceria Mexicana, which is proudly Mexican owned and uses state of the art processes, fermentation and aging systems. Drinks Americas leading premium authentic Mexican beer brands includes specialty craft beer Day of the Dead, MexicaliÔäó, Rio BravoÔäó, Red PigÔäó and Chili BeerÔäó. Drinks Americas (DKAM) brands continues to forge strong connections with consumers through some of the largest retailers and restaurants in the country.
Except for the historical information contained herein, the matters set forth in this release, including the description of the company and its product offerings, are forward-looking statements within the meaning of the "safe harbor" provision of the Private Securities Litigation Reform Act of 1995. These forward-looking statements are subject to risks and uncertainties that may cause actual results to differ materially, including the historical volatility and low trading volume of our stock, the risk and uncertainties inherent in the early stages of growth companies, the company's need to raise substantial additional capital to proceed with its business, risks associated with competitors, and other risks detailed from time to time in the company's most recent filings with the Securities and Exchange Commission. These forward-looking statements speak only as of the date hereof. The company disclaims any intent or obligation to update these forward-looking statements.