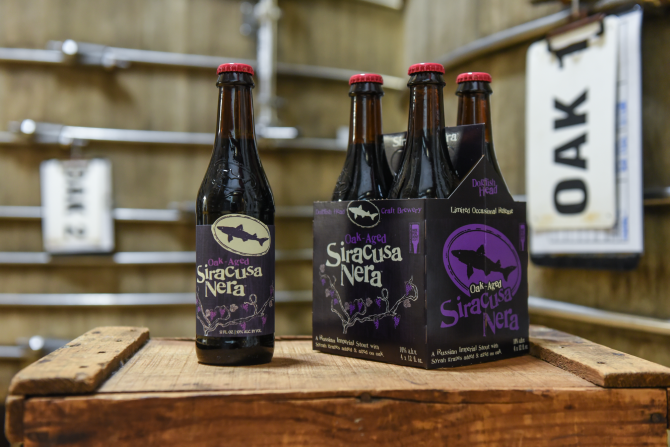 MILTON, Del. – Releasing in bottles for the first time, Oak-Aged Siracusa Nera, a Russian Imperial Stout from Dogfish Head Craft Brewery, is shipping to taps and shelves on November 3.  Blended with Syrah grapes and aged on American oak, this innovative beer-wine hybrid marries a dry-roasted Imperial Stout with a jammy wine, resulting in a complex, fruit-flavored finish.  Beginning with roasty malts that give notes of coffee and dark chocolate in the aroma, brewers then add Syrah grape must to bring multifaceted flavors of plums and cherries, and then age it on American oak to add hints of light toasty vanilla.
Born at the crossroads of Italian and American experimentation, this 10% ABV stout was originally brewed as a collaboration beer with Eataly, the largest Italian marketplace in the world.  In fact, the name Siracusa Nera pays homage to the historic origins of the Syrah grape, tracing its ancient roots to the small Sicilian city of Siracusa in Italy. "This delicious stout captures the Dogfish spirit of beer-wine interaction and innovation which we've been experimenting with for over two decades with fusions like Midas Touch, Sixty One and Rasion D'tre,"says Sam Calagione, founder and CEO of Dogfish Head Craft Brewery.  "A Russian Imperial Stout is a style we've been excited about recreating with a beer-wine hybrid twist.  We're super happy with the way Siracusa drinks like a roasty, punchy, pitted-fruit wine but with a toasted oak finish. And props to our brewer coworker Amanda for leading on this recipe innovation."  For the foodies out there, Siracusa Nera pairs well with full-flavored, rich dishes like seared duck breast and roast venison, and on the sweeter side, it tastes yummy with a dark chocolate mousse or a plum tart.
Dogfish is also excited to bring back the Holy Grail for Hopheads, 120 Minute Imperial IPA.  This big beer begins making its rite of passage to shelves and taps on November 10, 2017.   Clocking in at 15-20% ABV and 120 IBUs, this colossal, candy-like India Pale Ale is copper in color with sweet-citrus, piney and floral aromas, with a delightfully bitter mouthfeel.  Unfiltered and generously hoppy, 120 Minute is carbonated like an IPA and loaded with heaps of flavor and grand complexity.  Six times as hoppy as traditional pale ale, this sipper is an ideal candidate for sharing and is best served cool, not cold.  Ranked by "Business Insider" as one of the17 most sought after beers in America, they describe 120 Minute as the ultimate IPA, stating, "it's so hoppy that it's not even hoppy anymore; unlike other IPAs, it's not that bitter, just really flavorful…".
Continuously hopped with more than one-hundred twenty hop additions, 120 Minute IPA is packed with a hefty amount of high-alpha American hops.  In 2001, Dogfish Head introduced the continual hopping method to the beer world with the introduction of 90 Minute IPA, the world's first Imperial IPA, and followed the release with adding more continuously hopped beers to the family, including the iconic 60 Minute IPA, 120 Minute IPA and 75 Minute IPA – a cask-conditioned blend of 60 and 90 Minute IPAs.  Dogfish Head found that by dosing small bits of hops continually, in equal increments, over the whole boil, they can make a beer that is intensely super-hoppy without being brutally bitter.
Siracusa Nera and 120 Minute IPA will be available in 4pk 12oz bottles and draft.  To find and enjoy these and other off-centered Dogfish Head brews in your area, visit www.dogfish.com/brewery/fishfinder.
About Dogfish Head
Dogfish Head has proudly been focused on brewing beers with culinary ingredients outside the Reinheitsgebot since the day it opened as the smallest American craft brewery 22 years ago. Dogfish Head has grown into a top-20 craft brewery and has won numerous awards throughout the years including Wine Enthusiast's 2015 Brewery of the Year and theJames Beard Foundation Award for 2017 Outstanding Wine, Spirits, or Beer Professional.    It is a 250+ coworker company based in Delaware withDogfish Head Brewings & Eats, an off-centered brewpub and distillery, Chesapeake & Maine, a geographically enamored seafood restaurant,Dogfish Inn, a beer-themed inn on the harbor and Dogfish Head Craft Brewery, a production brewery and distillery featuring a tasting room and food truck.  Dogfish Head supports the Independent Craft Brewing Seal, the definitive icon for American craft breweries to identify themselves to be independently-owned and carries the torch of transparency, brewing innovation and the freedom of choice originally forged by brewing community pioneers.  Dogfish Head currently sells beer in 37 states and Washington D.C. and will expand into additional states in 2017. For more information, visit www.dogfish.com, Facebook: @dogfishheadbeer, Twitter: @dogfishbeer, and Instagram: dogfishhead.