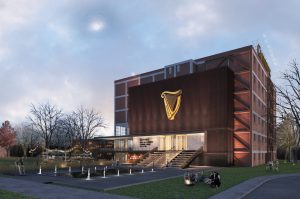 NORWALK, CT and RELAY, MD – Marking a major milestone in the establishment of the Guinness brewery in Relay, Maryland, the Diageo Beer Company USA, is proud to announce the appointment of Peter Wiens as inaugural brewmaster.  Boasting an impressive resume of brewing credentials, Wiens will lead the brewing team and brewing operations at the Guinness Open Gate Brewery & Barrel House – which represents an estimated $50MM investment to bring Guinness brewing back to U.S. soil after a six-decade absence.  The new brewery coincides with the 200th anniversary of Guinness reaching American shores.
While Guinness Stout will continue to be brewed exclusively in Ireland, the home of Guinness since 1759, this U.S. facility is an important step in the evolution of the brand.  Plans are for Wiens to oversee the production of Guinness Blonde American Lager and to lead development of new offerings that celebrate the American and Maryland tradition of brewing.
"Peter brings broad expertise, encompassing large and small operations and his ties to the mid-Atlantic brewing community will help to reinforce our commitment to ensuring the area prospers as a destination for beer lovers," said Thomas Day, President of the Diageo Beer Company USA.  "Given Peter's unique blend of experience, particularly with quality management; credentials and personality, we are pleased to have him on board.
We see immense opportunity for the Maryland brewing community and we are very excited to move forward with this project," Day continued.  "We look forward to welcoming guests to join us for a pint of Guinness at a grand opening in spring 2018."
At the planned Open Gate Brewery & Barrel House, Wiens will lead a team of brewers across two brewing systems.  A 100 hectoliter system will brew Guinness Blonde American Lager for national supply, and is intended to brew other new Guinness beers as they develop.  There will also be a 10 hectoliter system to brew small-batch beer for on site-sales in the tap room, which will act as a test kitchen for new beers.  The Maryland brewery will operate in tandem with the Open Gate Brewery at St James's Gate in Dublin, which currently brews two new beers a month.
"Guinness is synonymous with the highest quality offerings and being a Guinness Brewmaster is a dream I've had since college.  The first beer I ordered when I turned 21 was a pint of Guinness and I'm honored to have the chance to participate in the continuation of this iconic brand's legacy and its return to American soil," said Wiens.  "I'm very grateful Stone gave me the opportunity to build the team and brewery in Richmond.  I will miss Team Stone but feel ready to take the next step in my career with Guinness."
Most recently Senior Director Brewery Operations, Brewmaster East Coast at Stone Brewing Co., Wiens is an experienced brewer with a long and varied track record in the American beer industry.  Wiens played a leading role building out Stone's world-class Richmond, VA facility and since opening the brewery has led the brewing team and overseen all brewing, packaging and maintenance operations on site.  He is also an active member of the Master Brewers Association of the Americas.
Prior to joining Stone Brewing, Wiens established an independent operations at his family's wine cellars.  After graduating from UC Davis in his native California with a BS in Fermentation Science, he spent 12 years working in increasingly senior roles across brewing operations, process improvement, quality management and brewing research for Anheuser-Busch.
Current plans by the Diageo Beer Company USA anticipate a small scale brewing operation and tap room will be open in fall 2017 with a full brewery and visitor experience to open in spring 2018.  A website for the brewery will be established in the coming months.  In the meantime, follow @Diageo_NA on Twitter for more information.
About Diageo Beer Company
Diageo Beer Company (formerly Diageo-Guinness USA) is the U.S. beer and flavored malt beverage business of Diageo. Brands within Diageo Beer Company include the iconic Guinness, Harp, Smithwick's and Smirnoff ICE. Diageo is a global company, with its products sold in more than 150 countries worldwide. For more information about Diageo Beer Company, visit at www.diageo.com.