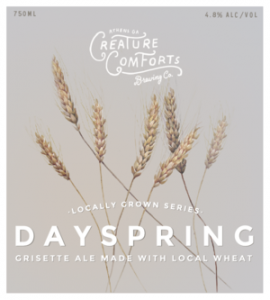 ATHENS, Ga– Georgia craft beer fans rejoice! Athens, Georgia, brewery Creature Comforts Brewing Co. will be releasing a limited amount of its newest beer, DaySpring, to the Athens and Atlanta areas today May 11, 2015.
DaySpring is a Grisette- a style hailing from Hainut, a province in southern Belgium- and is a light-bodied, low alcohol, farmhouse ale, similar to a Saison. The first in Creature Comforts' "Locally Grown Series," DaySpring is brewed with a grains organically grown at local DaySpring Farms in Danielsville, Georgia. DaySpring has a lively fruity flavor and with a bit of funk from the yeast.
In fact, according to one of the brewers, Blake Tyers, "Dayspring was fermented with a blend of Saccharomyces and Brettanomyces, resulting in an extremely dry beer, that has a funk and earthy character on the nose with a soft wheat character that finishes clean."
Tyers also said "This beer is 4.8% alcohol by volume and is a beautiful compliment to the dinner table."
Despite the fact that it has not been released to the public yet, DaySpring is coming to the market with critical acclaim. The beer won first place in the Classic Style category at the 11th Annual Atlanta Cask Ale Tasting this January, beating out other breweries from across the United States, and placed 10th in a nationwide contest for the best Saison-style beers done by Paste Magazine.
Like Creature Comforts' other recent release, Southerly Love, DaySpring will be offered in 750mL bottles. The bottles will be bottle-conditioned and capped, not waxed, which will allow customers to age their beer like a fine wine, if they desire.
DaySpring will be released to the Athens and Atlanta areas starting May 11th.
About Creature Comforts Brewing Company
Creature Comforts is an Athens, Georgia, based brewery that offers finely balanced artisanal beers for customers who want to enjoy the "creature comforts" of life. Since opening its doors in April 2014, Creature Comforts has made an imprint in the craft beer community with its award-winning, year-round and special release beers. To learn more about Creature Comforts, visit us online at www.creaturecomfortsbeer.com.