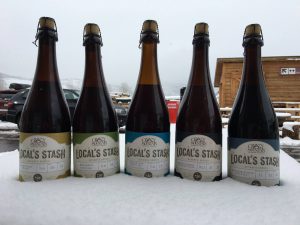 Edwards, CO ­– Edwards, Colorado-based Crazy Mountain Brewing Company has announced that its original brewing facility in Edwards, Colorado is now being used entirely for the production of the company's limited release "Local's Stash Reserve Series" of beers.
With the newly available capacity in Edwards, which can produce 15,000 barrels of beer annually, Crazy Mountain has shifted its focus there to its Local's Stash Reserve Series. Each offering in this series is an extremely limited, one-time release, which is intended to explore the creative depths of a brewer's mind while continually pushing the boundaries of fermentation science. These beers are unique because of the innovative brewing processes utilized in producing them, combined with the special ingredients sourced (prickly pears, Ponderosa pine needles, hibiscus flowers, etc). Additionally, some of these releases are then aged in hand-selected, used wine and spirits barrels. The results are truly remarkable beers of complex stylistic expressions, many of which are unlike anything brewed before. Packaged in 750ml, cork-and-cage bottles, a new release is going to be offered at least once a week moving forward. These one-off releases are also what comprise the brewery's quarterly subscription-based Local's Stash Reserve Bottle Club, in which the new beers are released to Club members first, prior to being made available to the public.
"We're really excited about the transition we've made in Edwards. To be able to focus an entire production facility, of a somewhat significant size, to producing nothing but experimental, one-of-a-kind beers is something that very few breweries are able to do, especially when each one is truly hand-crafted. A few weeks back we had to hand-zest over 100lbs of key limes for an upcoming release. Having all of the space in Edwards to focus on just this project has enabled us to create a kind of hybrid between a brewery and a culinary kitchen, while also giving us more room to barrel age certain styles. Many of these beers go through a recipe development committee process that can last for more than six months before they'll even be brewed. And what's really cool is that literally everyone in the company, from the brewers and production team through to the taproom team members, is encouraged to participate in coming up with ideas for, and then brewing, these beers." ­–  Greg Neale, Director of Marketing.
The capacity in Edwards was freed up when the company made the decision to move its canning line down to its Denver facility which, with the addition of the canning line, can now produce 100,000 barrels of beer each year. The six-year old brewing company expanded to this location in late 2015, in order to fulfill their ever-growing distribution demands, which now extend beyond Colorado to 24 states and nine international markets.
The Crazy Mountain Brewing Company taprooms in both Edwards and Denver will continue to offer all of their year-round and seasonal beers, as well as the most recent Local's Stash offerings as they become available.
About Crazy Mountain Brewing Company
Crazy Mountain Brewing Company is a Colorado-based brewery with production facilities and tap rooms in both Edwards and Denver. 
In 2010, Crazy Mountain was founded with one dog and two people, and has grown into one of the largest breweries in Colorado, producing hand-crafted beers of the highest quality, which have garnered global attention.
Crazy Mountain's beers are available in cans, bottles and on-draft in 24 states and nine countries. For more information, go to crazymountainbrewery.com or follow #getcrazy on Instagram, Facebook, and Twitter.