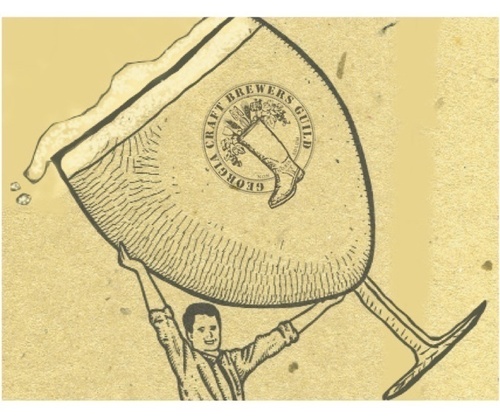 The efforts of Georgia-based craft brewers to change Prohibition era regulations have been met with tough opposition from state legislators.
Georgia's current three-tier regulations make it illegal for brewers to sell beer at their breweries for off-premise consumption. Some startup brands claim the laws have stunted growth and restricted access to cash flow necessary for expansion.
"People could come into our taproom and take a tour, sample the products," Cory Smith, co-founder of Macon Beer Co., told GPB News. "But when they want some to take home with them, they can't get it from us."
Smith added that if laws were amended to allow on-site sales, breweries like Macon Beer wouldn't have to wait as much as 60 days to reap a monetary benefit.
"You get it right then, and you can spend it and keep your business going," he said.
The Georgia Craft Brewers Guild (GCBG) helped to introduce a pair of bills — House Bill 314 and Senate Bill 172 — that would have allowed packaging breweries and brewpubs the right to sell a limited amount of beer (288 oz. per customer, per day) to consumers.
The introduction of the two bills prompted State Senator Jack Murphy to commission a study committee that examined both bills and looked to better understand the current beer landscape in Georgia.
Although brewers claim the new bills are not designed to circumvent the three-tier system, the study committee's resulting report concluded that breweries must continue working within the current framework of the law, which was designed to "regulate an industry that needs regulating," Murphy told GPB.
There was one accommodation in the study committee's report, however, that would allow brewpubs to sell 64 oz. growlers "for off-premises consumption if food was consumed on-premises with the purchase."
But the carve-out also include one bizarre caveat — a portion of the growler must be consumed on-premise before a customer takes it home. The idea is similar to Senate Bill 55 which is known as "Merlot-to-go" and allows restaurant-goers to take home unfinished bottles of wine.
In a press release issued last month, the GCBG derided the modification and called it "unworkable as written."
"Not only would the recommendation require the patron to drink part of the growler before getting back on the road, it overlooks the fact that beer is not wine," GCBG wrote in the statement. "A half-filled container of beer will be flat and oxidized before the consumer can return home."
That wasn't the only problem it had with the study committee's findings.
The GCBG said that the report "entirely" ignored packaging breweries, despite testimony that legislators heard explaining that breweries in 42 other states "are allowed some form of beer sales to-go."
In January, GCBG president John Pinkerton met with Murphy and, according an article on Creative Loafing, informed him that "the committee's recommendations were unacceptable."
Pinkterton told the website that Murphy agreed the report was far from perfect and could not be passed into law as written.
The article noted that both sides must work fast to compromise as the legislative session could end as soon as mid-March, which would mean the bill would die before being able to be reintroduced for passage next year.