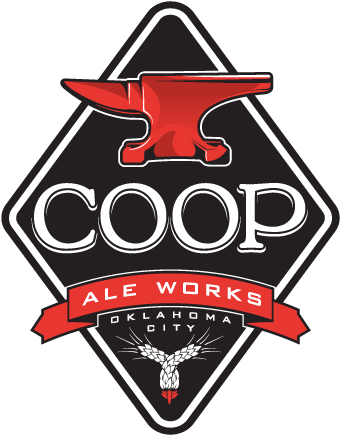 Oklahoma City, OK — COOP Ale Works, a craft beer brewery based in Oklahoma City, has announced plans to further expand distribution in Texas.
COOP will launch in Houston in June 2017, and plans to distribute statewide by the end of 2017 in markets including San Antonio, Austin, Waco and El Paso. COOP's current Texas distribution markets include Dallas-Fort Worth, Denton, Wichita Falls, Lubbock, Abilene and Amarillo. COOP also currently distributes in Nebraska, Kansas and Missouri, in addition to its home state of Oklahoma.
"We are so thrilled by the market acceptance we've seen in Texas so far," COOP's Director of Sales and Marketing Sean Mossman said. "We've been fortunate to build our base on the support of our friends here in Oklahoma, and now Texas has been great about welcoming us to their scene. We're very thankful for that reception."
Distribution in Texas will include COOP's flagship beer, F5 IPA, as well as Horny Toad Blonde, DNR Belgian Strong and Spare Rib Pale Ale. Seasonal beers include Alpha Hive Double IPA in Spring, Oktoberfest in Fall and Gran Sport Porter in Winter. Saturday Siren, a new summer seasonal dry-hopped pilsner, will launch in all markets this summer.
In addition to its core styles, COOP will allocate limited release styles to Texas markets, including its Territorial Reserve Barrel-aged series and DNR Cask-It series.
"We really have to give credit to Favorite Brands' extraordinary sales representative Josh Baggett for helping us get this deal done," Mossman said. "We met Josh through mutual friends and he showed us around all of the best craft beer spots in Houston. He tried our beer and felt strongly that we needed to be in Houston. We're lucky that Josh and the entire team at Favorite Brands have such a keen understanding of the Houston market and that they're supporting our presence there so strongly."
"We are thrilled to welcome COOP Ale Works into the craft beer scene in Houston and other Texas markets," Favorite Brands' Samantha LaMantia said. "The brand has seen great success in North Texas and throughout the region, and we're happy to introduce craft beer fans statewide to the quality beers that COOP brings to the table."