Southern California's Cismontane Brewing Company today announced that it has acquired the brewing equipment assets of distressed Poway, Calif.-based Lightning Brewery in a transaction that will not include the rights to the Lightning brand or its tasting room.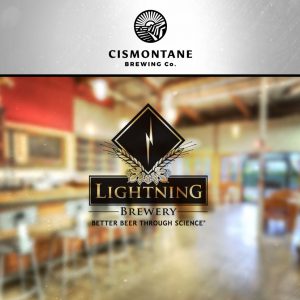 In a conversation with Brewbound, Cismontane Brewing CEO Evan Weinberg described Lightning Brewery as a struggling entity on the verge of bankruptcy and said he intends to accept offers for the acquired brewing equipment or resell the entire brewery as a turnkey operation.
"There are a lot of directions this thing can go," he said, noting that he didn't expect to profit from any of the transactions.
Instead, Weinberg said his decision to step in was more altruistic in nature and aimed at helping Lightning founder Jim Crute "get out of trouble."
"There aren't a whole lot of opportunities for us, as a brewing community, to really support each other," he said. "And this is a situation where we can all help bail someone out."
Specific financial terms of the deal were not disclosed, but the estimated value of the equipment being sold is greater than $420,000, according to a publicly available pricing sheet.
Last November, Cismontane sold its original production facility and tasting room, in Rancho Santa Margarita, Calif., to Laguna Beach Beer Company for an undisclosed sum. Proceeds from that transaction were used to finance the purchase of Lightning Brewery's equipment, Weinberg said.
Weinberg added that Cismontane would also consider retaining some of the equipment as it works to build out a new brewing facility in Santa Ana, Calif. that will include a 20-barrel brewhouse, four 60-barrel fermenters and four 20-barrel fermenters (two 60-barrel fermenters, previously owned by Lightning, are being offered for $18,000 each).
Two of "Open Brewhouse" events, where local brewers are invited to inspect and bid on equipment, are scheduled for June 9 and 10 at Lightning Brewery's facility in Poway, Calif.
According to a press release, "everything in the building will be available for purchase."
Among the items being sold are an 80 barrel fermentation tank and an 80 barrel brite beer tank, as well more than 500 kegs and 22 boxes of hops.
Last December, Crute put the Lightning Brewery up for sale. Earlier this year, he told the San Diego Union Tribune that Lightning's struggles began after Stone Distributing ended its agreement to distribute his German-style beers. He also blamed a lack of foot traffic to his tasting room.
"You can be a small brewery nowadays," Crute told the paper at the time, "but you have to be really focused on sales that go directly to the public."
According to Weinberg, the Lightning brewing facility is capable of producing approximately 7,000 barrels annually.