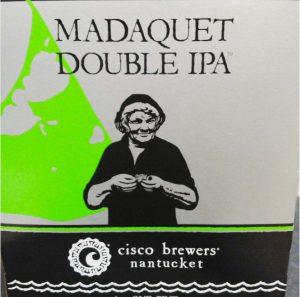 NANTUCKET ISLAND, Mass.– Cisco Brewers is bringing its Madaquet Double IPA, a piney, citrusy New England style Double IPA full of character and flavor, to the mainland for the first time ever. The beer pays homage to Nantucket legend Madaket Millie and is the first release in Cisco Brewers' new Island Reserve Series, which will expand local island favorites to states across New England.
Last produced in 2015, this release marks Madaquet Double IPA's debut to the broader Northeast. Madaquet Double IPA's juicy and hop-heavy New England style doesn't mess around at 8% ABV. Its light body makes it refreshing enough to enjoy for the close of summer, while still serving as a perfect beer to ease into the fall.
"The New England Double IPA style hit the craft beer scene a few years back and pushed the limits of what the craft beer consumer was looking for in a beer," said Jay Harman, CEO, Cisco Brewers. "Brewed with unfiltered fresh yeast and hop oil haze, Madaquet Double IPA is meant to be enjoyed as close to the packaging date as possible. We can package this beer on a Monday and have it on store shelves three days later, meaning that consumers are drinking the freshest beer available."
Cisco Brewers' new Island Reserve Series brings island-favorite beers to the mainland in a convenient 4pk of 16oz. cans. Madaquet Double IPA, the first in the series, will be available in select locations in Massachusetts, Connecticut, Delaware, New Hampshire, Maryland, New Jersey, New York, Rhode Island, Washington DC, and Vermont. This release of Madaquet Double IPA has been refreshed from its original recipe, utilizing a Hopnik brewing system to macerate and extract high concentrations of crystal hop oil on top of dry hopping. The result is a beer that is surprisingly strong and bold, yet easy to love – just like Madaket Millie herself.
For more information on Cisco Brewers, visit ciscobrewers.com, or keep up with the latest Cisco Brewers happenings on Facebook, Twitter, and Instagram (@CiscoBrewers).
About Madaquet Double IPA
In the spirit of Nantucket's own Madaket Millie, who rescued salty seamen from certain peril, this New England style Double IPA can be your Cisco life-line to the mainland until your next visit to the island.
This New England style Double India Pale Ale is an innovative hop showcase for Cisco Brewers. Light in body, with a clean dry malt flavor, it is hard to tell that she hits at 8% ABV. The aroma flourishes with tropical stone fruit and a piney resin nose. Along with a massive dry hop schedule Cisco utilized a Hopnik to macerate & then extract high concentrations of crystal hop oil, which gives Madaquet an uplifting sensory effect. With a cross blend of Mosaic & Galaxy, coupled with Citra & Cascade, Cisco has created a blitz on the pallet with lingering tastes of mango, passionfruit and citrus.
For the ultimate experience, Drink Madaquet while its fresh!!
FLAVOR POINTS
Light in body
Clean malt flavor
Tropical & fruity
Notes of stone fruit, peach, and resin
INGREDIENTS
Malts: Pale Malt, Oats
Hops: Mosaic, Galaxy, Citra, Cascade
ABV: 8%
IBU: 65
About Cisco Brewers
Located near Cisco Beach on the island of Nantucket, Cisco Brewers is Nantucket's first craft brewery. Founded by hard-working, entrepreneurial islanders who began selling beer from their outdoor brewery in 1995, Cisco has carved out its own special place on Nantucket where they tough out the winters to celebrate the summers. Over the years they've attracted a cult following with visitors to the island and open the door to anyone willing to make the trek. Named a top travel destination by Time Magazine, Huffington Post and Travel & Leisure, Cisco's brewery is a common ground where people from all walks of life connect over classic and approachable craft beers like Whale's Tale Pale Ale, Grey Lady Ale, Indie IPA, and Sankaty Light Lager.