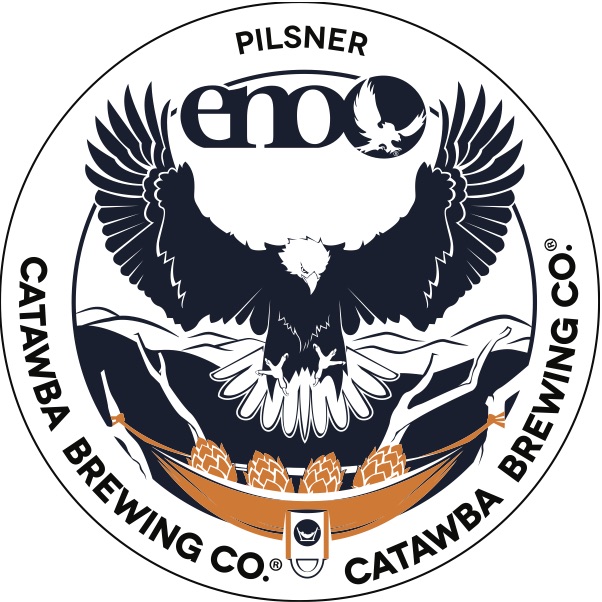 Morganton, NC — Catawba Brewing revisits its collaboration with renowned hammock manufacturer Eagles Nest Outfitters on an extended run of ENO Pilsner. These Asheville South Slope neighbors partnered previously in summer 2016 on a limited release of their classic European-style lager. The most widely produced beer style worldwide, the Pilsner has established itself as the undisputed champion of session beers since its introduction in 19th century Bohemia. With a nod to tradition, Catawba brewers have crafted an authentic interpretation of the historical style.
ENO Pilsner (4.9 percent ABV) is brewed with the finest pale malted barley, its subtle sweetness balanced by Noble hops Tettnanger and Hallertau Mittelfrüh, to create a traditional German-styled Pilsner. Then diverging a bit from tradition, a uniquely American hop, Idaho #7, was added late in the boil to provide refreshing citrus undertones. The beer finishes crisp and clean, true to style, making it the perfect easy-drinker for relaxing in a hammock.
This specialty beer will be released on Friday, May 26, with ENO-related festivities planned at all Catawba locations. ENO Pilsner will be available through August, now for the first time in 5-state distribution. Find it on draft and in 6-pack cans wherever Catawba beers are sold.
About Eagles Nest Outfitters
Founded in 1999, ENO has grown into the industry's leading provider of ingeniously crafted parachute hammocks. ENO continues to thrive in Asheville, NC and is an invested member of the local and global community, supporting organizations that are preserving and protecting our public lands. ENO offers the highest quality relaxation products for adventure travelers and outdoor lovers across the globe. ENO products are sold in over 2000 retail locations in 13 countries, and online at www.ENOnation.com
About Catawba Brewing Company
Founded in 1999 by the Pyatt family, natives of Western North Carolina, Catawba Brewing operates a main production facility in downtown Morganton, NC at 212 S. Green St; a boutique brewery/tasting room in downtown Asheville, NC at 32 Banks Ave; a tasting room in Asheville's Biltmore Village at 63 Brook St; and a new brewery/tasting room in Charlotte's Plaza Midwood neighborhood at 933 Louise Ave. Catawba beers can be found in NC, SC, TN, AL, and now GA. Find us online at www.catawbabrewing.com