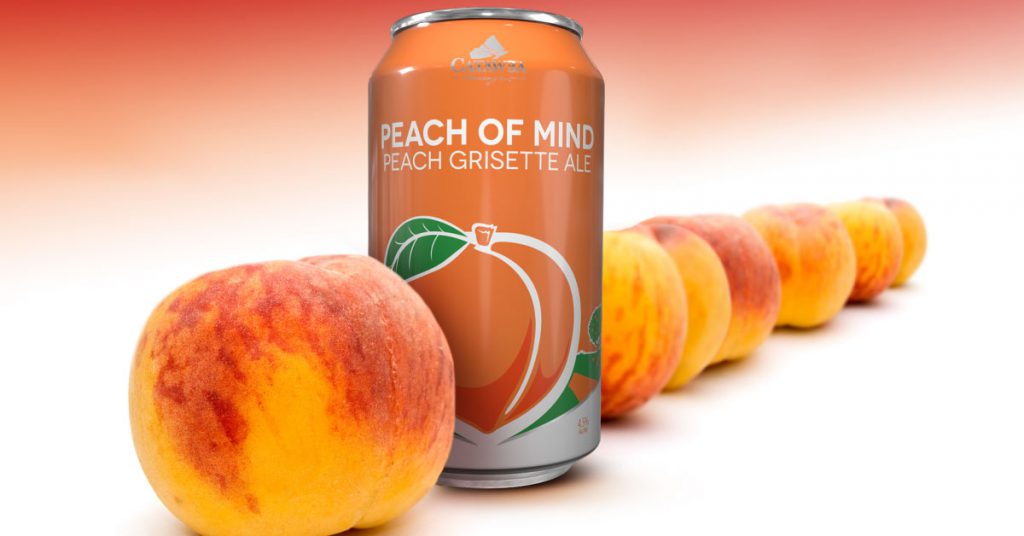 MORGANTON, N.C. — Catawba Brewing unveils Peach of Mind Peach Grisette (4.5% ABV) on Friday, June 1. Brewed with flaked wheat, this harvest-time session beer showcases the fruity esters of its farmhouse ale yeast strain. A late addition of fresh Carolina peaches elevates this golden nectar to the sublime – and honors Belgian tradition of infusing beer with local flavor. The result is a homegrown Grisette that captures the sweet, juicy essence of a peach in liquid form.
This new Limited Release will be available on draft and in 6-pack 12oz cans. Find it at all four Catawba tasting rooms, and in 5-state distribution.
Small Batch
Catawba is now pouring a Small Batch German Hefeweizen (5.0 percent ABV), available exclusively at Catawba's four tasting rooms. This traditional Bavarian-style wheat ale is hazy gold in color, with aromas of banana and clove, and a soft, well-rounded mouthfeel. German Hefeweizen is Passport Beer #22 in Catawba's 2018 Small Batch rewards program. Brewed in their Asheville South Slope brewhouse, the beer is available exclusively in Catawba's four tasting rooms.
Also on Friday, June 1, Catawba releases their Friki Tiki Lychee IPA (6.5 percent ABV). The latest in a monthly series of fruited IPAs features a tropical hop profile, enhanced by an addition of juicy, sweet-tart lychee fruit. Brewed in 30-barrel batches at their Morganton production brewery, these specialty beers will see a limited draft-only roll-out throughout Catawba's distribution area.
About Catawba Brewing Company
Founded in 1999 by the Pyatt family, natives of Western North Carolina, Catawba Brewing operates a main production facility in downtown Morganton, NC at 212 S. Green St; a boutique brewery/tasting room in downtown Asheville, NC at 32 Banks Ave.; a tasting room in Asheville's Biltmore Village at 63 Brook St.; and a new Catawba brewery/tasting room in Charlotte's Plaza Midwood neighborhood at 933 Louise Ave. Catawba beers can be found in NC, SC, TN, AL, GA, and coming soon to VA. Learn more at www.catawbabrewing.com