Call it craft versus crafty part deux.
In an effort to reignite its 2012 fight with "big beer," the Brewers Association — a national trade group representing the interests of America's small and independent brewers – today unveiled a faux crowdfunding campaign that aims to "buy" the world's largest beer company, Anheuser-Busch InBev, for $213 billion.
The crowdfunding campaign, as well as the $10, $50, $100 and $1,000 pledges aren't real, but the intent of the media offensive is.
"It's a tongue-in-cheek campaign about a serious message," Julia Herz, the BA's craft beer program director, told Brewbound. "We are trying to bring awareness to the fact that there are a lot of different brewers – big and small – and if you care about supporting small brewery businesses, then you should 'take craft back.'"
The launch of the "Take Craft Back" campaign was anchored by a 3-minute, Dollar Shave Club-esque video that features an actor – "Andy" — walking through Boulder's Upslope Brewing Company, asking viewers what comes to mind when they think of "craft beer" and extolling craft breweries' contribution to society.
"You think of breweries, like this one, reviving old neighborhoods, creating culture, putting people to work, doing something for America, apart from just putting the word on a can," the actor says, jabbing A-B for its relabeled Budweiser "America" packages.
The actor goes on to claim that "big beer's" craft brewery acquisitions – A-B, MillerCoors, Heineken and Constellation Brands have combined to purchase fewer than 20 craft beer companies since 2011 – will limit consumer choice at "local bars, stores and restaurants."
"Big beer wants to rob you of the power of choice," he says.
The video, which the BA created together with its creative agency, The Sterling-Rice Group, also claims that "big beer" is trying to "bleed the passion out of the independent craft brewing culture forever."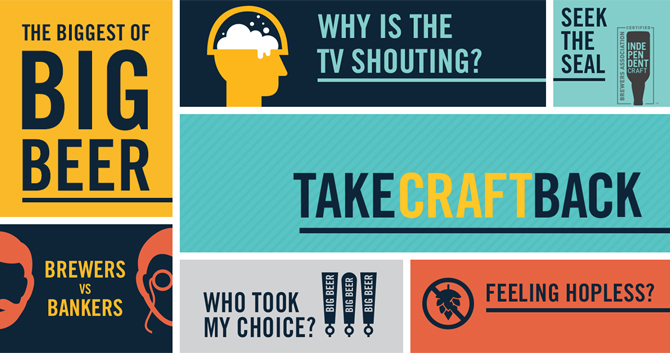 According to Herz, the goal of the new initiative, which can be viewed at takecraftback.com, is twofold:
First, the BA hopes to "raise awareness" for more than 5,700 small and independent breweries now competing in a crowded marketplace that organization executives believe is "not as balanced as it should be."
"As 'big beer's' craft brands continue to grow, some independent brands are having slower growth," she told Brewbound, blaming decelerating craft sales on companies like A-B InBev and MillerCoors, who can leverage their established distribution networks to earn valuable on- and off-premise retail placements.
"Beer lovers that want to pay attention, and support the businesses behind those purchases, should know that 98 percent of the breweries in the U.S. are small and independent, but they have less than 13 percent market share by volume," she added.
Secondly, the BA hopes to draw attention to what it calls an "illusion of choice" while simultaneously promoting its recently introduced independent craft brewer seal.
"As big beer has gotten into the full flavored beer movement, and presented themselves as craft brewers, the illusion of choice is showing," she said. "There is no denying that the illusion of choice is strong right now, and we don't want it to become a marketplace reality."
In response to the launch of the campaign, A-B InBev spokeswoman Gemma Hart sent the following statement to Brewbound.
"We can take a joke," she wrote. "While the fake money for this campaign 'piles' up, we will keep focusing our donations on giving back to communities across our country. We're proud of the more than 2.8 million cans of emergency drinking water we've donated in 2017, with more than two million of those cans going out to Texas, Puerto Rico, Florida, the U.S. Virgin Islands and Northern California during the past month alone. As a company, with 18,000 U.S. employees and together with our craft partners, we've given more than $13 million to worthy causes this year. That's a campaign worth celebrating in my book!"
In a "toolkit," published to the BA's website, the organization asked craft breweries to help "spread the word" about the initiative and said it planned to release additional video content to promote "Take Craft Back." The toolkit includes a variety of social media assets and a list of media talking points.
Herz, who declined to comment on how much the BA is spending on the initiative — which includes free "swag" giveaways such as T-shirts, hats, stickers and koozies to those who provide valuable email and snail mail information – said many BA members had already wrote to organization executives to praise the move.
In the hours since the campaign launched, craft beer companies such as New Belgium Brewing, Dogfish Head, Brooklyn Brewery, Odell Brewing and Maui Brewing, among others, tweeted their support of the initiative and encouraged thousands of followers to do the same.
But at least one BA member, who asked not to be named, wrote an unsolicited email to Brewbound criticizing the effort, calling it "embarrassing" and "gimmicky."
"This sort of campaign is diluting the BA's initiatives," the emailer wrote. "Rather than spend time on marketing campaigns like this that pander to the casual small brewer, the BA should spend time on programming that actually educates the community."
As of press time, more than $769,000 fake dollars have been pledged to the campaign.