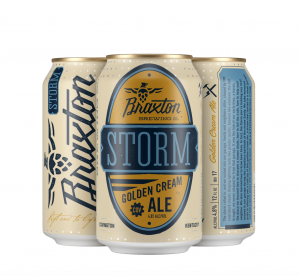 COVINGTON, KY — You will now be able to "Lift One to Life" on-the-go. Braxton Brewing Company will be releasing their first canned beer on November 16. The Covington-based company will be canning and distributing Storm Golden Cream Ale.
"Words can't really describe the excitement at Braxton right now," said Jake Rouse, Braxton Brewing Company's CEO and Co-Founder. "It's been a milestone for our entire company – to package the product, and to be able to do so with our own canning line and beautifully printed cans from Ball has been a true team effort."
Braxton Brewing Company will continue to partner with Stagnaro Distributing to deliver Storm to Northern Kentucky retailers. Storm will be packaged in 12 oz. cans and sold in 6-packs for $9.99.
"It is exciting for Northern Kentucky to finally have Braxton beer in a can," said Mike Stagnaro, President and CEO of Stagnaro Distributing. "The cans look amazing and we are excited to deliver Storm to a larger amount of our customers."
Storm was the first beer Braxton's Head Brewer, Evan Rouse, ever brewed in his family's Garage on Braxton Drive in Union, Kentucky. As he has gained experience and brought Braxton to life, the recipe has been slightly modified but the passion for this beer has not wavered. Since opening in March, the Golden Cream Ale has been the brewing company's most popular beer in the taproom and its distribution network. Storm also received a Silver Medal at the 2015 Alltech Commonwealth Cup.
"Storm has always been one of my favorite recipes I developed, it's light, crisp, clean, and extremely drinkable. It made perfect sense to make it our first packaged product." said Evan Rouse, Braxton Brewing Company's Head Brewer and Co-Founder. "For our customers to be able to take it home and enjoy it in their own homes and garages is a dream come true."
Storm is described as a traditional American lawnmower beer. It features a medium body with a creamy palate feel. The aroma is a balance between subtle corn and malt-like notes with a very slight earthy and spicy hop presence. Pale straw in color with brilliant lightning-like clarity, Storm makes a great session beer being low in alcohol and bitterness, but complete with flavor.
Helping bring this brand to life, Braxton Brewing Co. has continued its work with Neltner Small Batch.
"Braxton in cans is the epitome of the garage. The format is such an American icon to tell the brand story with," said Keith Neltner Creator/Owner of Neltner Small Batch. "The Storm can is a first for Neltner Small Batch and we couldn't be more stoked to share this milestone with the Braxton family."
Storm cans will become available in the Braxton Brewing Company taproom on Tuesday, November 17th. You can learn more about this event on the company's website and Facebook page. This announcement coincides with Braxton's first bottle release which will take place in their taproom on December 5th. Dark Charge, their first bourbon barrel-aged project, will be packaged and sold in 22 oz. bottles.
To learn more about Storm, visit Braxton Brewing Company's website. Stay up-to-date on all taproom release details by joining the event on Facebook.
Follow Braxton Brewing Company on Facebook, Twitter, and Instagram to stay in-the-know or visit their website for more company details.