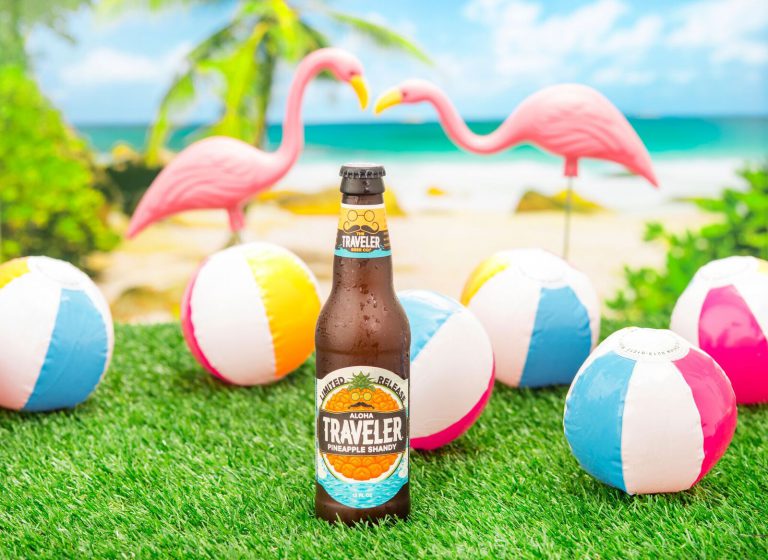 Burlington, VT  – Aloha, Traveler! Whether you have sand between your toes or packed powder under your skis, this winter The Traveler Beer Company, brewers of THE American craft Shandy, are here to transport taste buds to an island paradise. Launching in January 2017, Traveler Beer invites drinkers to taste the tropics with its newest limited variety: Aloha Traveler Pineapple Shandy.
Made with pineapple, the sweet, succulent golden fruit of the tropics, and a touch of citrus, Aloha Traveler is a craft wheat ale that offers a refreshing reprise from the winter doldrums. With just one sip, drinkers will have thoughts of waves gently lapping sandy beaches, palm trees swaying in the breeze, and ukuleles and steel guitars playing in the background. And for those already fortunate enough to live in a warm climate, Aloha is the perfect complement.
"People crave a getaway (whether virtual or real) to a warm, sunny destination in the chilly days of winter and early spring, and we give that to them through our pineapple Shandy," said Jasen Holley of The Traveler Beer Company. "We want our drinkers to feel like they're wandering off to island time when they take a sip of our Shandy."
The Traveler Beer Company – known for its adventurous Shandys – has drawn inspiration from the European Shandy, which is traditionally ale mixed with lemonade or lemon-lime soda. Traveler has given American drinkers a way to indulge themselves in with their high-quality, flavorful craft wheat ales. With different flavors for different seasons, Traveler Shandys use everything from real pumpkin and grapefruit to lemon and lime. Traveler Beer Company creates refreshing drinks for every type of Traveler.
Aloha Traveler, originally introduced in the 2016 Spring Variety Pack, will be available in 6-packs and on tap throughout the spring. It can be found alongside Traveler Grapefruit Shandy, Traveler's year-round offering made with real grapefruit. Other seasonal limited Traveler varieties include Curious Traveler, Jack-O Traveler and Jolly Traveler. A list of locations that sell and pour Traveler beers can be found here: http://travelerbeer.com/find-beers/.
About Traveler Beer Company
The Traveler Beer Company is a craft beer venture based in Burlington, Vermont, and was launched in 2012 with the mission of combining European Shandy-inspired refreshment with American ingenuity to create a line of craft beers that are both fun and refreshing. The Traveler Beer Company is an A&S Brewing Collaborative brand, a subsidiary of the Boston Beer Company. For more information, visit www.TravelerBeer.com.