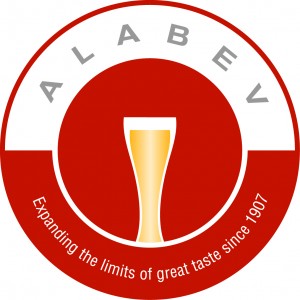 BIRMINGHAM, AL– Birmingham Beverage, beer distributor since 1907, announces roll out of new brand identity to AlaBev, encompassing their already expansive footprint across the majority of Alabama. With the new name, the company presents a new logo, website and first of its kind trade show for the area.
The initial launch of the new brand hits the market on Friday, May 9th with the unveiling of their website at the first annual AlaBev Trade Show followed by an unveiling party, Guitar-Beer-Que, both at Regions Field. The AlaBev name, overhauled website and newly designed logo support their already vast distribution footprint including Birmingham, Huntsville, Montgomery, Anniston/Gadsden, Auburn, Tuscaloosa and the surrounding areas.
"The new identity helps demonstrate AlaBev's ability to distribute, service and offer creative solutions for customers throughout the state of Alabama," states Harry Kampakis, Owner of AlaBev. "With this change, our digital footprint is expanding as well. Our new website, www.alabev.com, will offer e-commerce options to retailers, as well as ongoing useful and relevant information to Expand the Limits of Great Taste of the consumer. What has not changed is AlaBev's commitment to the highest product standards and quality systems," added Kampakis.
As AlaBev looks to pair great beer with great people, they will celebrate the launch of their new brand and website on Friday, May 9th. Trade Show attendees will be able to preview the site and learn more about the upcoming benefits to their business from 1pm-5pm. That evening, AlaBev welcomes everyone to an evening of unique brews perfectly paired with local music and BBQ starting at 5pm.
ABOUT ALABEV
AlaBev was founded in 1907 in Birmingham, Ala. AlaBev currently distributes to the areas surrounding Birmingham, Huntsville and Montgomery. They distribute domestic beer, domestic craft and specialty beer, imported beer, organic beer, draught beer, flavored malt beverages and coolers, cider, wine, alcohol free beverages and specialty foods. AlaBev is currently the largest distributor of domestic craft and specialty beer within Alabama. For more information about AlaBev, please contact Matt Kilpatrick at mkilptrick@alabev.com or 205-516-3122 or visit www.alabev.com.