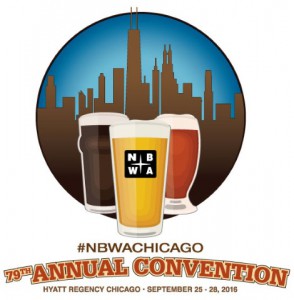 CHICAGO, IL – Today, Paul J. Bertucci, executive vice president of F.E.B. Distributing Company, Inc. in Gulfport and Capital City Beverages, Inc. in Jackson, Mississippi, assumed the position of 2016-2017 chairman of the Board of Directors for the National Beer Wholesalers Association (NBWA) at the association's 79th Annual Convention in Chicago, Illinois. As chairman, Bertucci will help guide the association as it advocates for licensed, independent beer distributors and educates elected officials, regulators, media and the public about the value of America's open and independent distribution system and state-based alcohol regulation.
Bertucci described how his family's business began in 1934 with just one brand of beer and one truck, and today it has grown to include two locations with more than 200 employees distributing more than 100 different brands of beer. The companies remain family-run, with the fourth generation now involved in the business.
Emphasizing the importance of industry relationships, Bertucci said, "We value the relationships we have with suppliers like MillerCoors and Heineken. Those partners go back to the 1960s. And we have been partners with craft brewers Sam Adams and Sierra Nevada since the late '80s. These days we also deliver beer from around the world: Belgium, Italy, Germany, Ireland, Mexico, Japan, to name a few."
"We also help craft labels grow: Andygator … Ruby Redbird … Southern HOPSpitality, made by Mississippi's first craft brewery Lazy Magnolia … and Gotta Get Up to Get Down," Bertucci continued. "We can help launch and grow new brands because we have worked over the decades to establish solid relationships with our 2,000 local retailers."
"And while we build relationships with supplier and retail partners, we know that it's the consumer who really matters," Bertucci added. "And that's part of what makes distributors so important to this system. We know our local markets. Because I live and work in the same area, I know firsthand what local tastes run to: Boating. Fishing. And of course, SEC football."
Bertucci pointed to the "Golden Age of Beer" the U.S. is experiencing thanks to independent distributors and new opportunities to grow brands and serve local consumers. He noted that independent distributors all have great stories to tell – building brands, offering good jobs, adding to local economies – and he encouraged distributors to develop more young leaders in the industry to ensure the next generation is strong.
NBWA President and CEO Craig Purser was joined by Brewers Association President and CEO Bob Pease for a conversation about the meteoric growth of the craft category over the last decade and the future of the segment.
They discussed the U.S. Department of Justice's review of the Anheuser-Busch InBev and SABMiller merger and the DOJ's proposed final order that aims to preserve the ability of smaller brewers – including brewers of craft and import beers – to compete by protecting their access to important distribution networks, and to ensure that independent distributors "will have the freedom to sell and promote the variety of beers that many Americans drink."
Purser noted the need to examine the long-term impact of sales outside the three-tier distribution system through tasting rooms that compete with beer retailers, along with the varying interests of established national craft brewers, brew pubs and traditional brewers expanding their retail privileges.
Purser and Pease also addressed the need to educate all members of the industry on the importance of trade practice compliance.
"Relations between our two organizations have never been stronger," Pease said, highlighting the opportunity to work together to ensure state regulatory agencies have the resources they need to enforce trade practice regulations and laws that protect competition and foster a level playing field.
Attendees also heard in-depth election analysis from Tucker Carlson, co-host of Fox and Friends Weekend and editor-in-chief of The Daily Caller; and Bill Press, senior political contributor for CNN, syndicated political talk show host, columnist and best-selling author; who each provided their take on the first presidential debate.
The general session concluded with a presentation by NFL great Joe Theismann, who talked about how passion, leadership and teamwork can all combine to create a comprehensive game plan for success.
Following the general session program, day two of the Product Demonstration Showcase featured products and services from more than 160 exhibitors, including 35 breweries highlighting more than 100 labels of beer, as well as non-alcoholic beverages, warehousing technology, financial services software, promotional products and more.
To view NBWA videos, please visit NBWA's YouTube channel at www.youtube.com/NBWABeer. Follow the conversation on social media using #NBWAChicago, and download the convention mobile app.
About:
The National Beer Wholesalers Association (NBWA) represents the interests of America's more than 3,000 licensed, independent beer distributor operations in every state, congressional district and media market across the country. Beer distributors are committed to ensuring alcohol is provided safely and responsibly to consumers of legal drinking age through the three-tier, state-based system of alcohol regulation and distribution. To learn more about America's beer distributors, visit www.AmericasBeerDistributors.com. For additional updates from NBWA, follow @NBWABeer on Twitter, watch NBWA videos on www.youtube.com/NBWABeer and visit https://www.facebook.com/pages/NBWABeer.