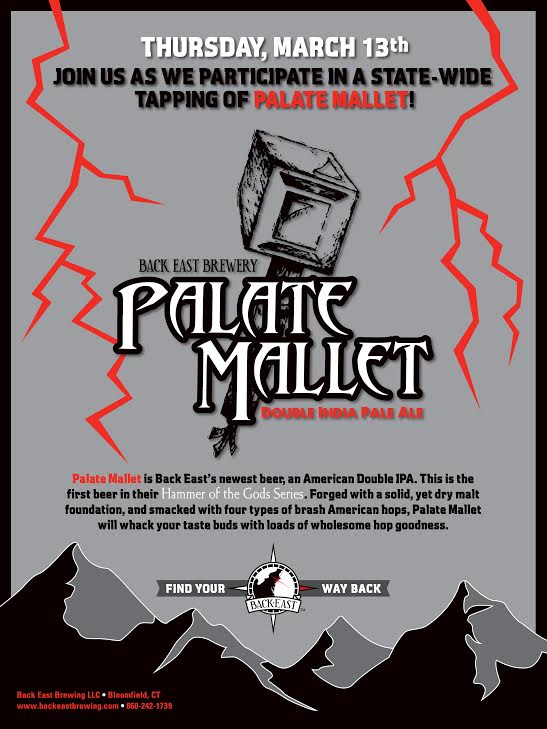 Bloomfield, CT – Back East Brewing Company today announced the release of Palate Mallet, an American Double India Pale Ale. Palate Mallet is the first beer in Back East's Hammer of the Gods series of big beers. Not for the faint of heart, these beers are absolutely stronger and bolder, packing in more hops, malt, stronger flavors and higher ABV.
Palate Mallet is forged with a solid, yet dry malt foundation, brewed with 4 bold American West Coast hops, and double dry-hopped. Palate Mallet has an ABV of 8.6%. Palate Mallet is currently available on draft only, but will be available in 12 ounce cans this summer.
"We're excited to release Palate Mallet, the first in what promises to be a great line of new beers for us" says co-founder Tony Karlowicz. "Palate Mallet has a great combination of West Coast hops, giving it an in-your-face citrusy aroma, strong hoppy flavor, but without too much lingering bitterness".
Back East will have a state-wide release of Palate Mallet, launching on draft on Thursday, March 13 at forty-six locations across the state of Connecticut. Samples of Palate Mallet and growlers will be available at the Back East tasting room on Friday, March 14. Back East's tasting room is open Wednesday through Friday, 4-7 PM, and Saturdays from Noon-4 PM.
Visit www.backeastbrewing.com for more information on Back East and for a listing of bars & restaurants participating in the state-wide release of Palate Mallet.
About Back East:
Back East is an independent, award-winning Craft brewery located at 1296A Blue Hills Avenue in Bloomfield, CT. Distributed throughout the state of Connecticut, Back East is available on draft and in 12 ounce cans at hundreds of restaurants, bars, package stores, and grocery stores. Back East was founded by Tony Karlowicz and Edward Fabrycki, Jr., two cousins with a true passion for brewing great-tasting, high-quality, flavorful beer.