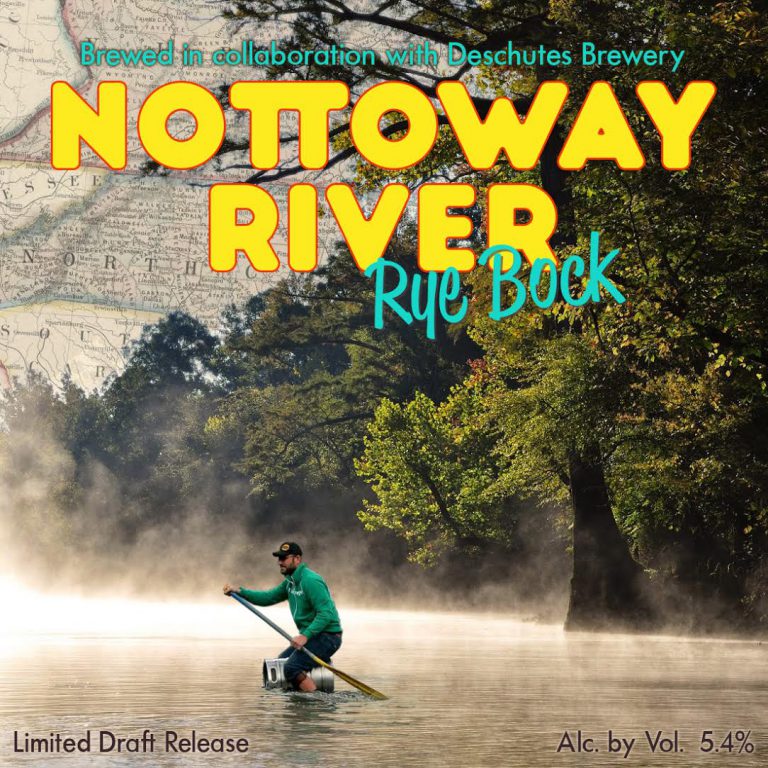 Asheville, NC — The back story: About a year ago, Asheville was in the running as the location for Deschutes' East Coast expansion brewery, and while Roanoke earned that honor, the Asheville Brewing and Deschutes brewing teams hit it off during the exploration process. They birthed the idea of a pub-to-pub collabeeration, regardless of where the expansion brewery would land.
"We're excited to have Deschutes in Roanoke because that means they'll be distributing in North Carolina soon," says Asheville Brewing President Mike Rangel. "No more having to bribe friends to bring us their killer beers across the country."
The Asheville Brewing and Deschutes brew teams met up at the Craft Beer Conference in May in Philly to create a recipe that could be brewed in both breweries and shared as a brewpub exclusive both in Bend and Asheville. Then a Deschutes brewer came to Asheville for a brew day and two Asheville Brewing brewers got to hit the road to Oregon to brew on Deschutes' pilot system.
Asheville Brewing's version of Nottoway River Rye Bock now has been lagering for more than two months. It will be released on Friday, January 20, at 5 p.m. at both the downtown and North Asheville locations. This beer will also be served at this year's Winter Warmer Festival on January 21 and at the AVL Beer Expo on February 18.
The beer: Nottoway River Rye Bock was brewed with regional malts from Asheville's Riverbend Malt House. It's a cool, clean lager with a hint of spice from the rye malt and a slightly unusual hop profile. It's hopped with Equinox in lupulin form. This "hop hash" provides a potent high alpha oil content that gives the beer a wonderful aroma but allows the flavors to meld smoothly with the malty backbone.
"This rye bock was a blast to brew–both in Asheville and out in Portland," says Asheville Brewing head brewer Pete Langheinrich. "It was an honor to collaborate with such an amazing brewery on a beer that I absolutely love. Nottoway River is a great post work crusher!"
The name: The Nottoway River is the river that defines part of the boundary line between the great states of North Carolina (home of Asheville Brewing) and Virginia (second home of Deschutes Brewery).
The stats: ABV: 5.4, IBUs: 21, SRM: 12
The pairings: Hard cheese & salami, spicy chicken sandwich, NC pork barbecue.