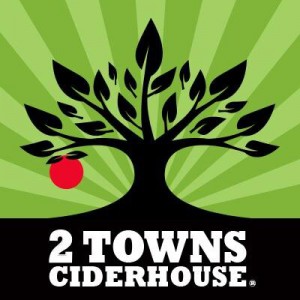 Corvallis, Ore. – 2 Towns Ciderhouse is proud to announce that it is partnering with the Portland Thorns FC for the 2016 National Women's Soccer League season and beyond. As part of the sponsorship agreement, 2 Towns Ciderhouse ciders will be served at the Thorns FC home games, including a special Thorns collaboration cider, and the 2 Towns log will appear in the stadium during games. 2 Towns will also host tastings in conjunction with pub partners. This partnership reflects 2 Towns' support for women's sports and excellence in professional soccer.
"The Thorns FC is an organization of talented athletes and staff that do a fantastic job of representing Oregon on the national stage, and have done so much to advance the sport of women's soccer in the United States," said Scott Bugni, marketing director at 2 Towns Ciderhouse. "At 2 Towns we are avid soccer fans and we're excited to support the dedication, strength and passion that the Thorns bring to professional soccer in Portland and to the National Women's Soccer League!"
"2 Towns is an ideal partner for the Thorns because of its passion for and love of the game," said Mike Golub, president of business operations for Thorns FC and the Portland Timbers. "We are excited to team up with 2 Towns and look forward to a great partnership."
The Thorns and their supporters embody and inspire passion for the game and represent the spirit of the Northwest. This week, in their honor, 2 Towns launched "Two Thorns", a specialty cider made with whole Northwest raspberries and rose petals. Two Thorns pairs well with diving header goals, hat tricks and 90th-minute winners. The Rose City can expect to see Two Thorns on tap at Providence Park, and at select pub partners. It will also be available in the 2 Towns Tap Room, which is an official pub partner, and will be showing all Thorns matches.
About 2 Towns Ciderhouse
At 2 Towns Ciderhouse we believe that the long history of cidermaking demands respect and deserves to be done right. Starting with the highest quality whole ingredients from local farms, we take no shortcuts in crafting our ciders. We never add any sugar, concentrates or artificial flavors, and instead use slow, cold fermentation methods to allow the fruit to speak for itself. As a family-owned company, we are committed to the growth of our team and enrichment of our communities. We take pride in producing true Northwest craft cider. For more information on 2 Towns Ciderhouse, visit www.2townsciderhouse.com.