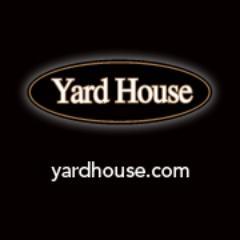 Irvine, CA – Yard House, which just celebrated its 20th Anniversary last week, is inviting all beer enthusiasts to help craft the restaurant's 2017 Beer Menu. Those interested can take a simple two question survey at yardhouse.com/beersurvey. The survey will be open through the end of December.
"Every year we do an annual Beer Review," said Gregory Howard, director of Beverage Strategy for Yard House. "It takes from three to six months to complete.  While we informally get the opinions of our guests, this year we thought we'd make them part of the process by offering a survey where they can let us know what beer, brands and styles they'd like to see at their local Yard House.  We're excited to see the results."
Survey participants, who must be 21 and older, are asked two simple questions:
1.      Select your local Yard House (select up to three locations)
2.      Name the beers you'd like to see on tap
Those interested in learning if their suggestions made Yard House's 2017 Beer Menu can enter their email address and be notified in March once the annual Beer Review is complete.
Yard House's Beer Review will begin with the feedback from the guest survey as well as its team members, who are on the frontline at each location observing first-hand which beers are in demand and are moving quickly.  Every team member, from dishwashers to general managers, will also be surveyed and asked to put together a "wish list" of what they would want added to their restaurant's beer menu.  After the information is collected the beverage team meets, tastes and reviews more than 1,000 beers that span the spectrum–in terms of style–and include everything from local brewers and well-known domestic brands to imports.
"We will ultimately select from 20 to 30 new beers to replace the least popular beers at each restaurant," shared Howard.  "That equates to nearly 1,600 tap handles companywide.  And, of course, each Yard House will have a couple at least a few taps that are exclusive to that particular location.  It's a little known fact, but each of our 65 Yard House locations has its own individual beer menu and no two are exactly alike. "
Yard House's Beer Review will also play an instrumental role in what will be offered as part of the restaurant's "Chalkboard Series," which is reserved for seasonal and small-batch selections. These beers rotate frequently and are displayed on a digital chalkboard above the signature island bar.
Yard House, which boasts on average 130 taps of beer per location and offers a menu of American favorites from its scratch kitchen, is open daily for lunch, dinner and late-night dining.  To participate in the beer survey, which closes December 31, 2016, visit yardhouse.com/beersurvey.  Follow Yard House on Facebook at facebook.com/yardhouse, Instagram and Twitter @yardhouse
About Yard House
When Yard House opened in 1996 in Long Beach, California, it revolutionized the restaurant industry by creating a 250-tap draft beer system.  Its lofty design, warm wood accents, and industrial vibe with the use of steel and chrome, made it a dining destination from the start.
Twenty years and 65 restaurants later, Yard House still leads the way with great food, classic rock and a vast selection of draft beer while evolving into an award-winning dining destination known for its menu of American favorites, crafted cocktails and endless fleet of tap handles featuring the best American craft and import beers.  The exhibition kitchen creates more than 100 items made from scratch daily with quality ingredients and globally inspired flavors.   The menu reads like a road trip across America and guests can select from an array of items, including grilled burgers, gourmet salads, street tacos, steaks, seafood and house favorites.
Each Yard House has its own distinct beer list with a handful of taps reserved for local and regional brewers along with an offering of seasonal and small-batch selections as part of the rotating "Chalkboard Series."  The glass-enclosed keg room showcases hundreds of steel barrels containing as much as 4,000 gallons of beer that flow to the center-island bar through an extensive network of tubing positioned overhead.  From there the beer is fed to the taps where it's served ice-cold by the pint, 9-ounce shorty, goblet or half-yard glass container.  Yard House is also well-known for its classic rock boasting a library of 5,000 songs with each location having its own distinct playlist.  Yard House is open daily for lunch, dinner and late-night dining.