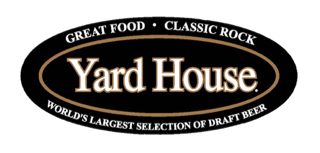 ORLANDO, Fla. – Yard House, an award-winning dining destination known for its great food, classic rock and vast selection of draft beer, will open its first location in Sunrise, Fla., this December at Sawgrass Mills. This opening marks the 69th Yard House location, seven of which are now in the state of Florida.
Yard House Sunrise will be situated in The Oasis – the outdoor shopping area at Sawgrass Mills – between the Regal Cinemas and Gameroom. Spanning over 12,000 sq. ft., the restaurant will feature more than 100 made-from-scratch, globally-inspired dishes and Yard House's extensive signature beer selection, with 130 draft brews including local favorites like Bangin' Banjo, Funky Buddha, and M.I.A.
"We're thrilled to open the doors to our house to the Sunrise community. Whether you're a beer aficionado or looking for a place to gather with your family, we're excited to welcome you in with delicious food and a lively soundtrack," said Karol Acosta, general manager of Yard House Sunrise. In addition to opening the Sunrise location, Acosta will be celebrating a personal career milestone with Yard House, as she began her journey as a server and food runner nearly 10 years ago.
New and loyal Yard House fans can anticipate guest favorites, including:
The renowned draft beer selection, with 130 beers on tap including 24 Florida-based brews. All beer is perfectly chilled and delivered fresh from a glass-enclosed keg room that houses up to 4,000 gallons of beer at a time.
Ever-changing "Chalkboard Series" displayed over the center-island bar and on the restaurant's website. It features a rotating selection of limited-release beers from mostly local craft brewers.
A menu of American favorites with a selection of globally-inspired flavors, from salads, street tacos and grilled burgers to seafood, steak and ribs. Gluten-sensitive, vegan and vegetarian options are available.
The best Happy Hour specials for an after work drink or late night bite, featuring half-priced appetizers and pizzas, including favorites like the Onion Ring Tower and Poke Nachos.Happy Hour is available Monday through Friday from 3:00 p.m. to 6:00 p.m., and Late Night Happy Hour is available Sunday through Wednesday from 10:00 p.m. to close.
The latest addition to the Sunrise community will be open daily for lunch, dinner, happy hour, and late-night dining, with indoor and outdoor seating for up to 400 people. The dining experience is complete with curated classic and modern rock playlists, tonight's game displayed on more than 20 flat screen televisions, and abstract artwork by Jerome Gastaldi throughout the space.
The restaurant is expected to bring more than 200 new jobs to the area, with team member positions ranging from hourly to management level. Potential team members can visit the Yard House website to inquire about career opportunities: yardhouse.com/careers.
Yard House Sunrise will be located at 2610 Sawgrass Mills Circle in Sunrise, Fla. within The Oasis at Sawgrass Mills. For more information, visit at yardhouse.com or follow us on Instagram, Facebook and Twitter.
About Yard House
When Yard House opened in 1996 in Long Beach, California, it revolutionized the restaurant industry by creating a 250-tap draft beer system.  Its lofty design, warm wood accents, and industrial vibe with the use of steel and chrome, made it a dining destination from the start.
Twenty years and 69 restaurants later, Yard House still leads the way with great food, classic rock and a vast selection of draft beer while evolving into an award-winning dining destination known for its menu of American favorites, crafted cocktails and endless fleet of tap handles featuring the best American craft and import beers. The exhibition kitchen creates more than 100 items made from scratch daily with quality ingredients and globally inspired flavors.  The menu reads like a road trip across America and guests can select from an array of items, including grilled burgers, gourmet salads, street tacos, steaks, seafood and house favorites. 
Each Yard House has its own distinct beer list with a handful of taps reserved for local and regional brewers along with an offering of seasonal and small-batch selections as part of the rotating "Chalkboard Series." The glass-enclosed keg room showcases hundreds of steel barrels containing as much as 4,000 gallons of beer that flow to the center-island bar through an extensive network of tubing positioned overhead.  From there the beer is fed to the taps where it's served ice-cold by the pint, goblet or half-yard glass container. Yard House is also well-known for its classic rock boasting a library of 10,000 songs with each location having its own distinct playlist. Yard House is open daily for lunch, dinner and late-night dining.