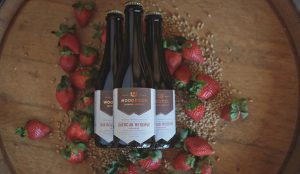 SEBASTOPOL, Calif. — The Woodfour Brewing Company is proud to announce our 3rd Annual, Fragaria Day Celebration, where we release the embodiment of our brewing philosophy, Quercus Reserve: Fragaria, Batch #3. Not only will we have this rarified example of our local Terroir available by the bottle, but we also have some key updates to our fan favorite release day.
Key to them is our inclusion of Fragaria among the Sonoma Pride Fundraising Initiatives from breweries all over the world. Six lucky auction winners will obtain 1 of 6 limited edition signed Magnum bottles of Fragaria branded with the Sonoma Pride logo, thanks to the wonderful team efforts of the crew at Russian River Brewing.
We will also have live music at the tap room, plus Strawberry Tamales & Chocolate Covered Strawberries from Chef Maria, along with a tour and tasting history of Woodfour Brewing Company led by Sales Manager John Roberts for the first 20 guests to mention the tour when doors open at noon.
Quercus Reserve: Fragaria, batch #3 is a fan favorite for the purest of reasons. The process starts with a brew of a light golden ale which is spontaneously fermented, then aged for 8-12 months in French Oak Wine Barrels. Like all of our Wild Beer, it is a pure showcase of West Sonoma County Microflora. Then, 500 pounds of Strawberries are picked at peak season in August right down the road at the Lao Family Strawberry Farm; de-stemmed by hand; and allowed to ferment for 2-4 weeks.
At the right juncture, the laid down beer is then infused to the strawberries to undergo a re-fermentation process, adding to the complexity of both strawberry and beer. After the 2-4 week re-fermentation process, the fully realized product is bottle conditioned for a period of 4-5 months for your drinking pleasure… and ours to be fair! Fragaria, is like drinking a glass of sour champagne with fresh cut strawberries dropped in. A puckering of fruity apricot and lemons is matched by a balanced, dry strawberry finish which forces you to take the next sip, and the next.
Availability: 520 bottles, 375 ml
ABV: 5.2%
IBU: 27
Color: Light, Strawberry Sunrise
Batch: #3
Style: Wild, Fruited Aged Lambic
Process: Spontaneous/Re-Fermentation
Limit: 3 Bottles Per Person
12:00 Doors Open
1:00 Tour & Tasting: Where the Wild Things Are, A brief Look at Woodfour Brewing
3:00 Sonoma Pride Fragaria Magnum Auction Ends, Online
Proceeds to King Ridge Foundation
Starting February 6th, the online silent auction for 1 of 6 Limited Edition Fragaria, Sonoma Pride Magnums will go on sale, and end at 3:00 pm on Fragaria Day. Woodfour is super proud to include our special, locally driven, rare beer release with the only 6 magnums sold in the 2018 year. This is a one bid, one win policy auction to raise money for those affected and effected by the Sonoma & Napa County Wildfires.
Place your bid at, https://www.32auctions.com/fragariasonomapridemagnum