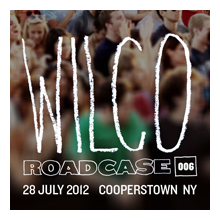 COOPERSTOWN, NY — Since 2010, Brewery Ommegang has seen a number of great artists visit the hottest new spot for live shows in upstate New York. This past July 28th Wilco became by far the biggest to hit the stage in Cooperstown, NY — providing a rain-dampened crowd with a rocking full night of music. A rainy night for 4,500 on an idyllic farmstead brewery — a show as unique as that begged to be recorded and shared. And so, Wilco's Roadcase:006 from Brewery Ommegang is now available for download for fans everywhere.
The iconic band's latest live album features the entire eighteen song set along with two lively encores. Roadcase:006 is a piece of musical history, the first live show to be recorded in full at Brewery Ommegang. The show captures the magic of the night when friends gathered, toasted an Ommegang (or two or three), and settled into a smooth cool groove. Wilco is renowned for choosing just the right settings for their one-of-a-kind live experiences and Brewery Ommegang lived up to the high standard despite a bit of misty mischief from Mother Nature. The band persevered through a short rain spell to energize the largest crowd of concert-goers ever on the Brewery Ommegang grounds.
During the encore, Jeff Tweedy of Wilco summed the night up best:
"You know what? I have to say thank you very much. We've had some really, really good crowds on this recent tour and I have complimented them, but you guys are the best, you're now the best. Those other audiences are dead to me. You had a good disposition in the rain, you sang along, you're beautiful; you're a little tipsy, you're almost everything a rock band looks for in an audience. I don't know what else we could ask for but I know there must be something else. Maybe, maybe you can show us what you got on the last couple of songs here — see if we can push it to that next level."
The crowd seemed to embrace the challenge with the encores elevating the experience to an even higher level than the ethereal set. Simon Thorpe, President and CEO of Brewery Ommegang, brings front-row-center experience to the assessment.
"Wilco's show was nothing like we have ever experienced at our little brewery. Wilco plus the laid-back upstate NY crowd together with a bit of mist and magic from the early rain delivered a uniquely memorable night. It is remarkably flattering to have Wilco release the show for their fans. Honestly, it's a bit humbling. After the show the band told us that they felt they had not played as well or enjoyed a concert themselves as much in ages — it was tremendously nice to hear and releasing the show digitally validates that sentiment."
The album can be purchased on the Wilco website wilcoworld.net, it is available for download on multiple formats. Wilco Roadcase:006 live from Brewery Ommegang is a great live recording and hours of enjoyment.
About:
Brewery Ommegang opened in 1997 to craft-brew fine Belgian-style ales. The brewery creates six ales year-round as well as a range of seasonal and specialty ales. The beers have won national following by connoisseurs of fine beer and are distributed in over 40 states. The brewery is located on a 136-acre farmstead in Cooperstown, New York and offers free daily tours and tastings, as well as a Café, a well-stocked brewery store, and an online store. For more info on Brewery Ommegang, please contact info@ommegang.com, call 1-800-544-1809, or visit www.ommegang.com. Brewery Ommegang is a member of the Duvel Moortgat family of fine beers.