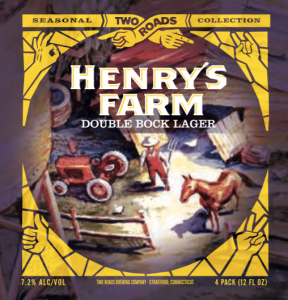 Stratford, CT – Two Roads is proud to announce the return of Henry's Farm Double Bock Lager in a brand new format: 12 oz. four pack bottles. The four packs will replace 22 oz. bottles.
Henry's Farm Double Bock Lager is the recipe of our Brewing Operations Director John Rehm and is brewed in honor of Two Roads CEO Brad Hittle's Great Grandfather, who made a bock on his farm in South Dakota in preparation for the coming of spring.
"My mother shared with me the many stories about my Great Grandfather Henry Dethlefsen, a White Lake, South Dakota farmer who loved beer and loved sharing it (thankfully)," said Hittle. "A favorite story was that each spring, Henry would brew a bock beer and invite his neighbors to his farmhouse for its release and to share stories while enjoying his hearty, malty creation together."
Clocking in at 7.2%, this brew is malty and warming with wonderful caramel notes. A perfect complement to hearty dishes like heavy soups and stews, Henry's Farm Double Bock makes a fantastic winter beverage choice.
"I'm very excited to release the 2016 Henry's Farm Doppelbock," said Rehm. "Since last year's batch received such great reviews the goal was to stay true to the recipe and re-create the outstanding deeply malty character everybody loves."
Henry's Farm bottles can be found wherever Two Roads beers are sold. Also look for it on draft at bars/restaurants.
About Two Roads Brewing Company:
Two Roads opened its doors in December 2012 having earlier acquired and renovated a 100-year-old vacant, brick factory building in Stratford, CT. Its name and philosophy are inspired by the Robert Frost Poem "The Road Not Taken"—a philosophy brought to life in the beers they create using the highest quality brewing and packaging equipment. Two Roads Brewery is open for tastings and tours Tuesday-Sunday.