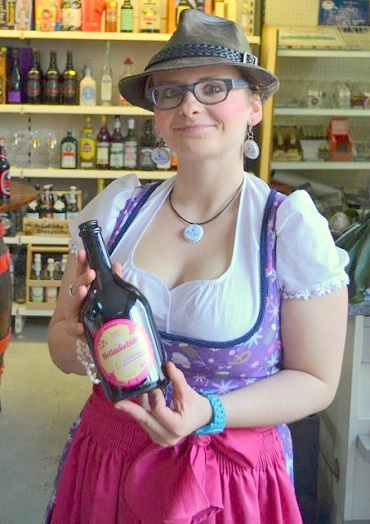 Philadelphia, PA–Under-the-radar craft beer, pioneering women brewers, small family breweries and artisanal eats are on tap for a small-group Beer and Brewery Tour to Germany, offered this fall by Philadelphia-based Treasures of Europe Tours. The trip is part beer vacation, part study tour and 100 percent fun.
Close your eyes and imagine your favorite brew. Then open them and imagine who brewed it. Chances are you'll envision a cool bearded Brooklyn-style dude. Or a jolly lederhosen-clad, suspender-snapping Old World-type.
Odds are you won't be thinking of a woman brewer. Here as in Germany, beer and brewing tend to revolve around men. But, here and in Germany, women are stepping out of the shadows. We're spotlighting some of the most inspiring, bold "Ladies Who Lager" — German women brewers — on our Brewery and Slow Food Tour along the Bavarian beer trail this October.
"This culinary and beer vacation spotlights hidden beer and food venues that are worth traveling for," says Tom Conrad, who will guide the tour.
"We're proud that Treasures of Europe is the only travel company with a tour focusing on craft beer, women brewers, small regional breweries and Slow Food," he added.
The line-up includes the Meinel sisters, 11th-generation brewers who are rocking the Bavarian beer scene with a new line of un-girly beers for women; Sigi and Barbara Friedmann, who recently landed a European Beer Star prize; and Germany's iconic brewmaster-nun, Sister Doris, who has been at the brew kettle for over 40 years.
The trip is designed for beer fans, connoisseurs, food activists, and Slow Food enthusiasts as well as culinary adventurers and people who are newer to the world of beer and food. The dates are October 3-13, 2014. Space is limited and the group will be small. Info at www.treasuresofeuropetours.com.
The Alpine village Mayrhofen, Bavaria's cosmopolitan capitol Munich, the "Harvard of Beer" Freising, and the artists' colony Murnau, plus the UNESCO world heritage city Bamberg are on the itinerary.
Beer and breweries in the nooks and crannies of Franconia will be the centerpiece of the trip. This region in northern Bavaria has the highest concentration of breweries in the world — one for every 5,511 citizens.
A fall Alpine cow homecoming festival, private sausage making workshop with a master butcher, an artisanal dairy and cheese-making farm, Zoigl brew house visit and a private farm-to-table meal cooked by a local chapter of the ladies' auxiliary of the Bavarian Farmers' Association are also on tap for the group.
"Beer, food and travel are an unbeatable combination," says Conrad. "We're looking forward to celebrating the best craft beer, women-brewed beer and artisanal food Germany has to offer," he added.
Reservations and information for the Beer and Slow Food tour at Treasures of Europe Tours – Beer Tour http://treasuresofeuropetours.com/beer-tour-2/.