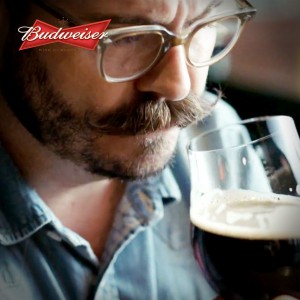 Kansas City Brewery Foils A-B's Trademark Plans
Five days after airing its now infamous Super Bowl ad poking fun at craft brewers, Anheuser-Busch attempted to trademark the phrase upon which the ad was built: "Brewed the Hard Way." Turns out, as noted by Kaider Law, an intellectual property firm, the beer giant was actually beat to the punch. On February 5 — one day before A-B filed its own trademark — a small brewpub in Kansas City called Martin City Brewing filed a trademark application of its own for its "Hard Way IPA."
Here's where it gets a bit tricky. Martin City filed its request as an "actual use" application, citing February 4, 2015 as the date the mark was first used in commerce. A-B, conversely, filed an "intent to use" application, meaning that its desired mark had yet to be used in commerce. From Kaider Law:  "This is significant, because trademark rights stem from usage and the first in the market has priority over all second-comers."
In turn, the U.S. Patent and Trademark Office (USPTO) suspended its examination of A-B's trademark application on May 13 pending the outcome of Martin City's application, which was filed first. Now, assuming Martin City's application is a go, the USPTO will publish the trademark for "opposition." At that time, A-B could theoretically object and argue why the mark should not be allowed.
New Hampshire Governor Vetoes Beer Label Bill
New Hampshire Gov. Maggie Hassan vetoed a bill Tuesday that would have allowed for the sale of alcoholic beverage products adorned with labels depicting minors, so long as the imagery didn't promote underage drinking, reports the Associated Press.
State Rep. Keith Murphy (R-Bedford) – who also runs a tavern in the state – originally sponsored House Bill 122 because he wanted to be able to buy and sell Breakfast Stout, a popular beer from Founders Brewing that features on its label a baby wearing a bib spoon feeding himself.
The bill passed muster in both the House and Senate, but democratic Gov. Hassan said she believed more formal guidance was necessary and vetoed it. Currently, state law prohibits the sale of all alcoholic beverages whose labels make "any reference to minors, pictorial or otherwise."
Enjoy Beer Backers Raise $2 Billion Fund
In April, Brewbound reported that San Francisco-based private equity firm Friedman Fleischer & Lowe (FFL) was a significant investor in Enjoy Beer LLC, the acquisition-minded craft beer consortium launched by ex-Harpoon founder, Rich Doyle. Now, a new report from Reuters colors in a bit the size of that investment.
According to the article, in its fourth and largest private equity raise, FFL secured $2 billion. Of that, reports Reuters, "about a quarter" has been invested in two unspecified eye care companies and the Enjoy Beer enterprise. With the new fund, FFL plans to invest in companies without "using a lot of debt."
Executives from Founders and New Holland Talk Craft Beer Business
Mike Stevens, co-founder and CEO of Founders Brewing, and Brett VanderKamp, president of New Holland Brewing, interviewed each other about the state of the craft during a recent meetup hosted by Start Garden, a venture capital firm based in Grand Rapids, Mich. The pair touched on a number of subjects, most notably, M&A activity in the space and whether their respective companies would be buyers. Selected, a few highlights, as gathered by MLive.com:
On the influx of private money in the space:
VanderKamp: "They all say the same thing… They want to come in, own a majority, keep me around and then buy me out, or I buy them out in five to seven years."
Added Stevens: "I'm a little worried about who owns this industry 10, 20 years from now."
On whether they'd be interested in buying a craft brewery:
Stevens: "Our compound annual growth rate for the last six years is averaging 72 percent. We're not even out west yet… why would we want to hit the reset button and have those complications when we've got so much in front of us?"
VanderKamp: "It's definitely something we've talked about."
Illinois May Reinstate Happy Hour
Illinois lawmakers have passed a bill to repeal a 25-year-old ban on happy hour drink specials and other promotions in the state, reports the Chicago Tribune. Pending Gov. Bruce Rauner's signature, the bill would allow for vendors to discount alcohol for up to four hours a day and 15 hours a week, provided the promotions are advertised a week in advance. Under the bill, volume specific deals, like two drinks for the price of one, notes the Tribune, would remain banned. "We're jumping up and down about this," Aaron Zacharias, managing partner of Fountainhead and Bar on Buena, told the Tribune. "I can't believe that Illinois lawmakers did something good."