Need another example of just how competitive the craft beer market has become for mid-sized breweries? Look no further than Tallgrass Brewing Company.
After a decade in business, Kansas' largest independent craft brewery has found itself squeezed between national brands and taproom-room focused microbreweries — both of which are chipping away at the company's local market share at a time when the industry has grown hypercompetitive (more than 5,600 U.S. brewing companies are now in operation across the U.S.).
"We're getting pinched," Tallgrass founder Jeff Gill told Brewbound. "It's no secret that regional breweries have it tough, and it's been tough for us over the past 18 months. So we've had to make adjustments."
One of those adjustments includes rationalizing a brand portfolio that was supposed to include 21 different core, seasonal and one-off releases in 2017. Beginning in July and continuing into next year, however, Tallgrass said it would focus on just 12 beers. The company has also shifted its focus away from more traditional styles — like IPAs and porters — and will instead push behind two tart, fruit-flavored Berliner Weisse beers.
"It almost seems like it doesn't matter what you do with an IPA in today's craft beer climate," Gill said. "After two or three months, people are off to a new one, and what do you do? You rename it, reformulate it. It's not really what we like to do as a company."
Despite culling several beers from its original 2017 release schedule, Tallgrass hasn't completely abandoned its core portfolio. Long-time brands Buffalo Sweat Oatmeal Cream Stout and 8-Bit Pale Ale will still be sold year-round as well as three limited seasonal offerings such as Key Lime Pie.
But the renewed focus on the Berliner Weisse style is something Gill hopes will create less confusion for distributors and retailers at a time when both tiers are inundated with thousands of craft SKUs.
"We feel like that's a very good thing, and the sales results that we're having are proving that out too," he said.
The fruit-flavored Berliner Weisses are driving "some fairly significant growth" growth for Tallgrass, Gill added, noting that those brands now account for about 50 percent of the company's product mix. Sales of its "Blueberry Jam" are fast-approaching those of best seller Buffalo Sweat, which itself accounts for about 30 percent of the company's total sales, he said.
"Of course, it's in its honeymoon phase," Gill said of Blueberry Jam, "but I was just looking at the numbers and they're right there with it. And it's showing some sustainability so far."
Meanwhile, production is up 15 percent year-to-date, and the company expects to sell about 20,000 barrels of beer in 2017.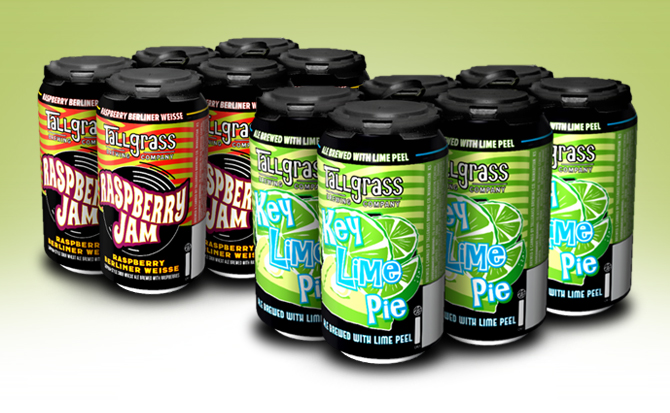 The portfolio restructuring isn't the only notable change at Tallgrass, however. In mid-May, former brewmaster Greg Papp — who Gill said specialized in the production of IPAs — left the company for the fast-growing, IPA-focused Melvin Brewing.
The company has also undergone several rounds of reorganization over the last two years, Gill said, in an effort to "change" the company's culture and "streamline" operations by eliminating and combining certain positions.
Various positions, including the director of operations, controller, marketing director, creative director, and sales director, as well various sales, lab technician and logistics roles were impacted. Some of those roles were combined, while others were eliminated altogether. According to Gill, Tallgrass now employs 20 workers.
"Some people are going to show the personal growth capabilities that we're looking for and others aren't," he said. "We've got to find the right members for our team as we move forward, and that's what we've been able to do."
Gill now leads Tallgrass' operations along with head brewer Garrett Paulman, plant manager Justin Calvin and brewpub head brewer Chris Chalmers.
Additionally, Gill hired Todd Karp at the end of February as the brewery's marketing and sales director in an effort to consolidate those two jobs.
Karp, who works out of a home office on the East Coast, impressed Gill with his 17 years of experience in the wine and spirits world; he previously served as the CMO of Carriage House Imports, which specializes in wines and high-end spirits.
"He's reinvigorated our sales staff and really connected with a lot of our wholesalers out there in positive way," Gill said.
Karp has also reinforced Tallgrass' market expansion strategy, Gill said, and the company now ships beer to 18 states after adding Michigan (Imperial Beverage) in January, Colorado (Republic National Distributing Company) in June and Ohio (Premium Beverage Supply) in July.
"We're only going to get into markets where we have the right wholesaler fit," he said.
All of these changes come less than three years after the company embarked on a $7.5 million expansion project — funded by private investors and bank financing — in which the company relocated to a 60,000 sq. ft. building in an isolated industrial park near Manhattan Regional Airport.
Gill called the expansion, which immediately increased the brewery's maximum capacity to about 38,000 barrels, the "most challenging period for me in the history of our company."
"Our growth rates in 2011, '12 and '13 were just insane," Gill told Brewbound. "In 2014, we couldn't make enough beer."
But growth peaked in 2015 as production topped out just under 22,000 barrels. In 2016, due to increased competition in the company's core markets of Kansas City, Omaha, Des Moines and Wichita, sales declined to 19,500 barrels, Gill said.
"This is a scary time for smaller regional breweries," he said. "In craft beer, at the level of what Tallgrass is trying to do it, it's no longer a game for some guys who loved homebrewing and just figured it out along the way. There's a lot more to it now with these market dynamics."
Through it all, Gill has watched many craft brewery owners sell their companies to larger beer conglomerates or private equity firms. After a tumultuous 18 months — and with no end in sight to the challenges facing small brewers — Gill admits that "any smart business person" would look at strategic ways for sustaining growth in a crowded marketplace.
"We're definitely keeping our ears perked up to what would put us in the best position for success," he said.
Nevertheless, Gill maintains that Tallgrass' current infrastructure along with a restructured team puts his company in a position to "keep fighting and move forward."
"We've already made a lot of investments," he said. "So we don't need some huge amount of money, but we've got to have resources that we need to compete moving forward."